Yours to Claim is an ongoing manhwa written by ZZIN-BAM with art by Waje. Released in 2020 it has been published by Lezhin. On campus Jooin is taken by Yahwi's looks and they both instigate contact with one another. As their relationship proceeds, Jooin meets Cain, a foreigner who claims Jooin was his "master" in the previous life. A love triangle between the three starts.
Synopsis
[
]
Nothing crazy happens to Jooin. He's just your average college student, keeping his head down and flying under the radar. Yahwi, on the other hand, is drop dead gorgeous, super popular…but also kinda mean. So why has the campus heartthrob taken an interest in a total nobody? There must be an ulterior motive…but it's hard to care when faced with those killer looks...
Characters
[
]
Lim Jooin
[
]
Bashfulness comes into effect when spoken to by his friend Yeonho and when Yahwi catches him staring. To himself he notes that Yahwi's surname sounds very similar to "goyangi", the Korean word for "cat". Later Jooin messages that he was not mocking Yahwi's name, he just really likes cats hence why he commented on the name similarity. Finding him in the corridor Jooin calls Yahwi and thanks him by saying he will treat him to a meal. Surprised that Yahwi has invited him to join his group Jooin chooses the third member, a girl simply because she is the closest. Telling Yahwi that he is very handsome Jooin is happy that they are not even close but he still teamed up with him and brought him to a restaurant for dinner. He does not have a good feeling at being asked by Yahwi to keep other students away from him.
Go Yahwi
[
]
The last year's president before taking a year off Yahwi returns to study in the same class as Jooin and Yeonho. Whilst he snickers at Jooin's name later at a party Yahwi finds his messages to be cute. After answering Jooin's call he hangs up before sending a document with meet and greet locations as requested. Not one for words he holds Jooin's face and motions for the others to leave when he is called. With a group project Yahwi is asked by others to join their groups however he calls for Jooin. Telling the others he said he would work with him Yahwi glares at Jooin to induce him to 'remember' this before happily saying that he can choose the third member. He would resort to Jooin again by telling a girl that he had eating plans with him today. Even though Jooin wasn't Yahwi compliments him on being surprisingly quick on the uptake and that he likes that. Driving Jooin to a restaurant Yahwi says he will pay after noticing his expression at the high prices and if he cannot decide then they will both have the chef's recommendation. Yahwi is protective over Jooin after getting rejected.
Cain
[
]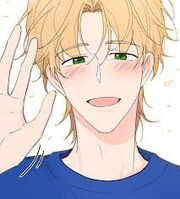 Meeting Jooin purely by chance, Cain calls out to Jooin by shouting "master". Looking at Jooin's bewildered face, he then proceeds to explain that Jooin was Cain's master in the past life and Cain is very happy to meet him again like this. His Korean is not very fluent. Even as Jooin dismisses his claims as strange, they exchange email addresses. Cain keeps messaging Jooin in his broken Korean. At first, Jooin doesn't reply but soon he starts finding Cain adorable. After running into issues with Yahwi, Jooin gets a chance to go on a trip to Cain's country with his classmates, Yahwi included. As Cain greets him at the airport with a bright smile, he meets a glare from Yahwi. Yahwi takes Jooin away. Cain wonders who Yahwi is and why he's coming in between his master and him. On his trip, Cain gets to spend a day with Jooin and both start getting closer. Soon Cain visits Korea to learn Korean, but his main reason meeting Jooin.
Even though he comes from a supposedly rich family, Cain lies to Jooin about not having a home and moves in with him. Yahwi warns Jooin that Cain seems trouble but Jooin ignores him. As the two start to live together, they grow closer. Cain cooks for Jooin and takes care of him. He doesn't like how Yahwi treats his "master" Jooin, but doesn't say anything as it doesn't Jooin said it doesn't concern him. Gradually, Cain developing feelings for Jooin.
Over the chapters, it is revealed that Cain might actually have been an animal (maybe a dog or a wolf) under "Jooin's" care, in the past life.

Seo Yeonho
[
]
Enthusiastically greeting Joo-in, Yeonho answers he has never met Yahwi in person but has heard he is really good looking. The student body president of the architecture department for this year he anoints Jooin his second in command. Dressing up for a group blind date with the girls from the aviation service department Yeonho says he really wants a girlfriend. He is pleased and loves his bro Jooin for covering his meet-and-greet event. Yeonho is further delighted to be working with two girls for his group project.
Pil Choongman
[
]
He was the vice president with Yahwi and introduces the both of them to Yeonho and Jooin who are carrying out the roles this year. Yahwi says that Choongman told him that Jooin was a good student.
Story Introduction
[
]
The class is packed because Yahwi is to attend and Jooin hears from his friend Yeonho on how he is to help him study for this semester. After class they are introduced, Yahwi had taken a year off when Jooin and Yeonho were freshmen and with their class president and vice president links they exchange numbers. Yahwi does not reply to Jooin's messages and by day time Yeonho is supposed to go to a meet-and-greet event but he has a group blind date. Jooin searches for a venue and failing to get through to Choongman he phones Yahwi instead for recommendations. Receiving a list of them Jooin thanks Yahwi in person.[1]
In groups of three presentations are to take place every week starting April. For the mid-term an architectural plan based on the group presentation is to be submitted. Yeonho is already in a group yet Jooin finds himself called to join Yahwi's group. Afterwards Yahwi takes Jooin to a restaurant where Jooin says that he likes him. In the drive back Jooin is blushing profusely at Yahwi leaning in and reclines the seat in response to avoid it. At home Jooin is wondering if he is smitten with Yahwi's looks over his personality.[2]
Images
[
]
References
[
]
Wiki Link
[
]