Warehouse is a completed manhwa at 72 chapters. It is written and illustrated by Killer Whale. Released in 2016 it has been published by Lezhin, and by Bomtoon. Season 1 consists of 36 chapters with an epilogue and special. Season 2 has 31 chapters with an epilogue, a special, a Q&A, a Q&A2. Side story 1 has 2 chapters. Side story 2 has 3 chapters. Python Tale is an alternate story.
Synopsis
[
]
Kim Dohyun, 28, is stuck in an dead-end job and with almost no money to his name. When he suddenly gets kidnapped during the day, it's only the beginning of his confinement by a scar faced man, who seems to have some kind of perplexing motive for keeping him captive.
Characters
[
]
Kim Dohyun
[
]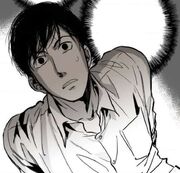 Wanting to go back if he could, Dohyun considered high school was so fun, they would chat all day. Working in a phone store Dohyun happily explains a contract involved with a phone and how he gave a discount because the customer is a woman. With her concerned about mobile phone scams Dohyun answers they are all part of the same industry but there are a lot of bad guys. If she is worried then other stores can be checked, they are living in a democracy so there is that choice. Dohyun continues that the owner is coming back soon so she could not buy it at this price when he does. Accused of being a scammer because he cannot answer how much the phone costs by itself Dohyun tells the man to fuck off then asks why he is making a scene. Saying if they do not want to buy it then they shouldn't, Dohyun questions why the penniless fuckers are bitching around in someone else's shop. He raises the middle finger as he presses them to report him. On his phone Dohyun has the owner of the stores named saved as 'Owner Bastard' and is angered that he always hangs up straight after what he wanted to say. Eating noodles Dohyun then pauses that as he elaborates on another phone contract for a different customer. At 28, he thinks how the shop is doing really badly, and Dohyun receives messages that his credit card has been maxed out. Contemplating that he would rather enlist again rather than become a courier Dohyun thinks he cannot do deliveries again after nearly dying by slipping on the road when it was raining. Waking up in a dark place Dohyun suspects kidnapping but thinks how he never took out a loan or get into a fight as reasons for being taken. Apprehensive, Dohyun thinks the person with him may be a bit slow and it might work if he tries to talk him into it.
Sunho Jung
[
]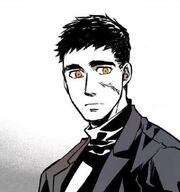 He is called by a customer who was speaking to Dohyun. Entering the room where Dohyun is, Jung asks whether he is okay and hurt anywhere. Hearing that his head aches Sunho checks if he feels like throwing up or anything. Asking if Dohyun does not remember this place Sunho was planning to bring all the stuff from the school exactly the way it was. With the school having sold the desired sports equipment he recreated it from memory. Jung spent all day looking at it once so he remembers where everything was and how it was placed. This includes how many hurdles there were and how many were broken to how many basketballs were deflated, then how worn out the mats were. Conceding he does not need to be tied up Jung then thinks Dohyun might get angry or attack him when he gets the chance. He wonders if there is a way that does not require him to tie Dohyun up but still make him tremble powerlessly and beg for his mercy. While he does untie him Jung is ready to seize Dohyun's elbow when he swings at him. Pinning him Jung warns that if Dohyun tries that again he will break his arm. Following that Jung then violently twists it before sexually assaulting Dohyun.
Story
[
]
Kim Dohyun thinks back to high school, how they would laugh at anything. The guys who studied and the guys who didn't all got along well when playing. When things were bad, going through that together and escaping it was all fun in the end. Presently Dohyun explains if a customer uses an LTE plan for 24 months she just needs to pay 4000 won every day for the device. It reads 02.49 on the phone as Dohyun sells one. An acquaintance of the woman enters and warns her not to buy phones from random shops. He asks Dohyun how much the phone costs by itself. Dohyun swears at them, the man says he will report him to consumer affairs. Another data plan involving 2GB of data, unlimited calls and texts is detailed to another customer. Turning to Dohyun's name, age and whether he has a girlfriend the man calls Sunho that he has found what he asked him to, leaving as he speaks.
Smoking in an alleyway Dohyun is called by the store owner before being struck behind by someone else. He awakens with his arms tightly bound. A door opens.[1] As the person speaks how the location matches a gym location perfectly Dohyun resorts to shouting that he untie him, that he has the wrong person. As Dohyun speaks to be untied, Sunho Jung wonders if that would also have him beg for mercy. Dohyun is untied then moves to hit Jung. He catches his arm, warns Dohyun not to try that again or he will break it then twists it anyway before sexually assaulting him.[2]
Images
[
]
References
[
]
Wiki Link
[
]