After being devastated in the third World War (known as The Third Division),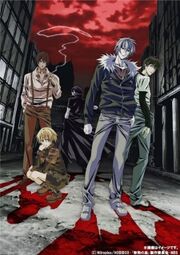 Japan was divided in two. Several years after the end of the war, a crime organization called Vischio has taken control of the destroyed city of Toshima (formerly Tokyo, Japan's capital city), where they are holding a battle game known as "Igura". The main character, a young man named Akira, is falsely accused of a crime. Once arrested, a mysterious woman appears before him, offering him freedom if he agrees to participate in Igura and defeat Igura's strongest man: the king, or "Il-re". The story follows Akira's life in the harsh, lawless Toshima as he fights both to survive and to unravel the mysteries developing around him.
- Source: Wikipedia
More Info
Edit
Japanese: 咎狗の血
Aired: 23/09/10 - 23/12/10
Status: Finished Airing
Genres: Action, Sci-fi, Shounen-ai
Episodes: 12
Adaption: Togainu no Chi
Where to Watch?: http://www.animeseason.com/togainu-no-chi/, http://www.animecrazy.net/togainu-no-chi-anime/,
Recommendations:
NO SPOILER CONTENT
I read many reviews for this anime before I finally decided to watch it. To me, the art looked brilliant, so it was tempting, but many who have read the manga found it rather disappointing. It's too bad I haven't read the manga ;)
It was different - that I can definitely say. I haven't watched many like it, but then, I'm a girl, so this sort of thing isn't the usual - not to be stereotypical. There was a lot of fighting - little real storyline - and it generally wasn't one of my favourites.
Will I read the manga? Definitely, judging by other peoples' higher opinions of it, but whether I'm looking forward to it is a totally different matter. This anime has made me doubtful...
- Written by WhiteKitten
There are no current ratings for Togainu no Chi.