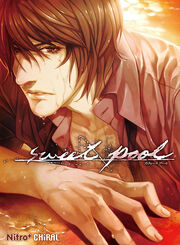 Sweet Pool (スウィート プール) is a boys' love game by Nitro+chiral. It was released 19.12.08 and is a PC game (there is an unofficial chinese port by otomedream). It was illustrated by Kurumazaki Mayuki.
Youji is a little bit nervous because he goes to school for the first time in several months. From that day, his surroundings gradually change.... Tetsuo unexpectedly approaches Youji. Youji asks Tetsuo why, but he never answers.... Youji gets scared of Tetsuo. Zenya also approaches Youji at the same time. One day, Zenya suddenly whispers Youji, "It's all your fault...." Strange pain.... Vivid nightmares.... Are they just illusions? What are Tetsuo and Zenya's purposes?
This visual novel has a unique choice system based on reason versus instinct, and there are six endings to this eerie story
Plot and Ending Spoilers BelowEdit
Characters
Edit
Sakiyama Youji

A quiet, sickly high school student, who was held back a year due to his hospitalization.
Voiced by Haruno Kaze.
Shironuma Tetsuo

Youji's mysterious classmate.
Voiced by Hatoman Gunsou.
Mita Makoto
Youji's classmate and only friend. Has an obsession with food.
Voiced by Sorano Taiyou.
Okinaga Zenya
A strange upperclassman Youji meets when he's playing around on the gates.
Voiced by Midorikawa Hikaru.
Kitani Kouhei

Zenya's driver and butler. Is completely devoted to Zenya and to his father Kunihito.
Voiced by Akizuki Hideyuki.
Okinaga Kunihito

Former Yakuza Boss in poor mental condition. He is Zenya's father and Kitani's boss and mentor.
Reception and Reviews
Edit
The Red Road
Diving Deep
Miracles May (Violin Version)
'Miracles May
The Hunger
VLG
Photos and Videos
Edit
Link to wiki
Edit
Create the Sweet Pool wiki!
Community content is available under
CC-BY-SA
unless otherwise noted.