Spinel is a completed manhwa at thirty chapters, however there is an ongoing side story. It is written and illustrated by Baekji and has been published by Mr.Blue, JusToon, Lezhin, and Bomtoon.
Synopsis
[
]
In a world divided into slaves (Spinels) and masters (Pels), Rowell is a young duke who refuses to abide by the established rules. His parents died defending the rights of Spinels, and he, too, has never bought or sold a slave in his life. Then one night, a runaway Spinel named Dev steals an heirloom pendant of Rowell's and blackmails him into purchasing his services. Dev plans to use Rowell's wealth and authority to find his lost family, so he does everything in his power to dominate the kindhearted Rowell. With years of bad blood between Pels and Spinels, will the two be able to see each other beyond their labels? Or will their differences be too great to overcome?
Characters
[
]
Rowell Cloyde
[
]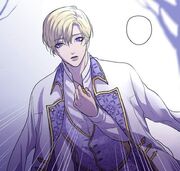 Rising to the rank of duke at an early age was on account of his parents being murdered before his eyes. With Dev on top of him Rowell is more intrigued with the full moon above him having been reminded that the view of it was a birthday present he received from his parents as a child. Caressing Dev's face as he speaks of how pretty it is Rowell then thinks he must be a runaway slave. Deciding to go into a slave premises himself Rowell considers it is his first time in a such a premises and deems it disgusting. The only difference between them is that Rowell is outside the bars and they are inside. Finding Dev he desires his pendent back and offers Dev as much money as he wants, yet answers violence to retrieve it is out of the question since it is forbidden to harm someone else's Spinel. Rowell does refuse to buy Dev when asked to and says it is not right to buy a person adding that Dev is not an object but proceeds when Dev says he would return his pendent. Largely unresponsive to Dev proposing that they sleep together, even if other nobles live such lifestyles Rowell states he does not indulge in such meaningless activities.
Dev
[
]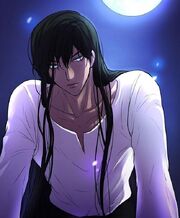 Escaping from a slave merchant Dev came across Rowell and took his pendent. Captured he was beaten and thought this time he really could run away. Thinking how the pendent he took in a hurry looks like its owner Dev wonders if he will be able to see Rowell again. Confronted, Dev asks so what if he took it. Clarifying that Rowell will give him money and he will give the pendent back Dev questions if he is not going to be tortured or killed. Wanting something else apart from money Dev requests that Rowell buy him. Stating he did not know there was a Pel who treats Spinel as human beings, Dev asked Rowell to get him out of this place and he will return his pendent. Entering Rowell's mansion Dev registers how they let a slave go through the front door. Although he is free of one place Dev thinks nothing has changed since Rowell's mansion might just be another hellhole. Feeling powerless at the moment when his younger sister Rhea, and mother was taken away and he was in chains Dev thought how the world was despicably cruel. Joining Rowell in his room Dev says he has a proposal before kissing him. Dev has to find his family even if it means using Rowell. Questioning if Rowell thinks he does not know that he just acts all sophisticated in front of other nobles, Dev continues that behind the scenes they participate in homosexual activities.
Party Attendant
[
]
This man states it is not strange for people to get excited because Rowell is coming. He observes that the man next to him has already fallen for Rowell once he arrives.
Party Attendant
[
]
Picking up on the excited mood of the party with Rowell arriving this man thinks how he looks like a doll. Contemplating how Rowell's eyes appear lifeless he does not blame him being aware of his childhood.
Maurice
[
]
Travelling with Rowell as his servant he questions whether the master is tired. Encouraging him to head back Maurice is concerned Rowell would get sick. Maurice advises Rowell to calm down and assures him they will find his pendent. He guesses that the slave took it and elaborates that he was in a hurry and needed money to escape. Guiding Dev to go into Rowell's mansion Maurice remained professional and answered who knows when questioned why he was speaking to him so formally.
Rowell's Mother
[
]
Gentle when rousing Rowell from his sleep she asks whether he slept well. Leading him by the hand she said where they were going was a secret. Along with Rowell's father they gave him his birthday present of the full moon outside. She then handed Rowell a pendent from them both.
Rowell's Father
[
]
When Rowell's mother brings their son to view the full together his father lifts Rowell on top of his shoulders. Telling him that it is too early to be this happy they then presented Rowell's pendent to him.
Slave Merchent
[
]
After catching up to Dev who was with Rowell this man apologizes for his impertinence and asks if there is anything wrong. He thinks why Rowell would be so desperate because of a missing pendent when he could just buy a new one. Silently angry and feeling slighted at Dev escaping, the slave merchant leads Rowell and Maurice to the punishment chamber where escaped slave are often taken. He comments that Dev has pretty unique eyes for a Spinel so has been keeping him even though in his view he has a nasty temper. Asking Rowell to think a little more the slave merchant was concerned that if he sells an uneducated slave and something happens then he will be in trouble.
Rhea
[
]
Dev's little sister who called for him to help them. She was led away by men armed with rifles.
Story
[
]
350 years ago Spinel were discovered by the National Power living on an isolated island. They were captured and suppressed by the Pel then forced into slavery. Today they are sold for a high price to powerful and wealthy nobles.[1] Travelling by carriage Rowell arrives at an opulent party whose patrons are excited by his arrival. At some point Rowell exited his carriage having noticed that the rain had stopped. Rowell was tackled to the ground and found Dev above him.[2]
Recalling being woken by his mother as a child at 11.57pm Rowell joined his father to see the full moon at night. Conflating that with Dev above him, after he flees Rowell informs the arrived slave merchant that his pendant is gone. It is remembered that this moon shaped gift was given by his parents. Dev regards Rowell's pendent he has now.[3] As Rowell processes the matter with Maurice they hear that the slave has been caught. Heading to a establishment where slaves are kept, Rowell finds Dev chained in the furthest room.[4] When he was caught Dev was beaten by a man who was angered at just thinking about his escape. Another man present is only against the abuse since if Dev's body is damaged he will lose value. Presently as Rowell faces him and seeks his pendent back Dev requests that he buy him.[5]
Entering Rowell's mansion Rowell heads to his room and asks Maurice to lead Dev to his own. After remembering how Dev was bought to have his pendent returned Rowell finds Dev has joined him in his room. Dev proposes they sleep together.[6] Remembering how his mother and sister Rhea was taken Dev means to find her no matter what. Rowell is unmoved by Dev's advances and calls Maurice to have Dev sent out.[7]
Images
[
]
References
[
]
Wiki Link
[
]