Semantic Error is an ongoing manhwa written by Jeosuri and illustrated by Angy. First released in 2018, it has been published by Ridibooks. A four episode anime adaption with around four minutes per episode was released in 2021, of which further details may be found on the Semantic Error Wiki, specifically the anime article. A live action drama series with eight episodes of around twenty three minutes each was released on February 16, 2022.
Synopsis
[
]
Computer science major Chu Sangwoo is the epitome of an inflexible and strict rule-abiding person. While working on a liberal arts group project with freeloaders who don't put in any effort, Sangwoo reasonably decides to remove their names from the final presentation. But he didn't imagine how involved he would become with the person whose study-abroad plans were messed up because of that project. The involved person: the campus star who everyone knows, Department of Design's Jang Jaeyoung. He has everything from skills, looks, family background, and good relationships except for 1 big problem: Chu Sangwoo. What happens when an engineer and an artist whose personalities are like oil and water have to work together? Jang Jaeyoung is like a semantic error in the perfect world of Chu Sangwoo. Will Sangwoo be able to debug this?
Characters
[
]
Chu Sangwoo
[
]
A part of the College of Engineering at the Department of Computer Science, Chu is regarded as a genius who has always ranked at the top of his department but does not engage in social groups. He has a logical, detail-oriented personality and handles most situations in his stride. Beginning a presentation Chu has credited himself for everything. The title uses blinding rainbow colors with the background featuring Bonobono, a naive and innocent children's anime character. Chu is indifferent to the reasons his group had for being unable to attend the day of the presentation. With school on break Chu is about to enter the second semester of his junior year. Even with a reduced class load Chu contemplates how he is not going to have much time since he will be working on a mobile game soon. Considering his part-time job on weekends Chu thinks he can use his weekdays to study programming. He receives a text from 'Freeloader 3' how they could not graduate thanks to him, but his thoughts are on what kind of person Jang will be to find that it is him.
Jang Jaeyoung
[
]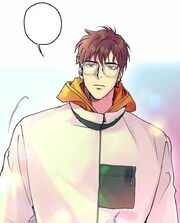 A part of the College of Fine Arts at the Department of Design, Jang is regarded as a star with his model-like proportions and handsome looks. He is famous for having a good personality, but he actually has an awful temperament. Jang did not turn up to a single meeting for the group project and emailed the lecturer to say he had to fly abroad for an art exhibition awards ceremony so could not attend class. A senior who was unable to graduate due to Chu's actions, Jang meets and him and had saved his name as a swear word in his phone.
Han Sooyoung
[
]
Messaging Chu, Han shares news of a sudden job offer. From the department of visual design Han asked a skilled guy in the same year to attend the meeting with Chu instead. Jang is Han's recommended person to complete the game art.
Story
[
]
At Hanguk University Chu Sangwoo starts his presentation. Receiving a message, he meets Jang Jaeyoung.[1] As the presentation was underway on the recommended best personality traits and societal roles for a Hanguk university student Chu analysed the reputations of famous graduates. Speaking to a lecturer afterwards Chu details how the other group members did not contribute at all. One group member messages how Chu could remove their name when he said attendance was not possible since his great aunt had passed away. Chu ignores the other messages as well when a member did attend some meetings and Jang had his reasons as the lecturer explained. At work others discuss how Jaeyoung could not graduate, and Chu realizes that he is nearby. In his apartment Chu hears from Han Sooyoung how Jang will take over the visual elements of the game they are working on. Checking his phone to see it is 04:15, Monday, December 17, Chu grows angered that Jang is late but then he arrives. [2]
Images
[
]
References
[
]
Wiki Link
[
]
An overview article on the entire series, enjoy reading and documenting total coverage details on the Semantic Error Wiki!