Scumbag System also known as Scum Villain's Self-Saving System is a Chinese web novel/danmei written by Mo Xiang Tong Xiu. It was originally published on Wen Xue Cheng and has also been released as a Chinese paperback by Pinsin Studio in addition to a Thai paperback by Sense Book.
An ONA anime with ten episodes released has been released. This was by studio Djinn Power and produced by Tencent Penguin Pictures and iQIYI. A second season is scheduled for 2021.
Plot
[
]
Shen Yuan is transmigrated as a handsome young cultivator, Shen Qingqiu - the teacher of Luo Binghe, the overpowered main character in the harem novel Proud Immortal Demon Way. Unfortunately, Shen Qingqiu is actually a scum villain destined to die at his disciple's hands! But... why do all the female lead's scenes feature him instead!? Since he's a scum villain, why does he keep getting wrapped up in the main character's plot and sacrificing himself for him!? Determined to change his fate of dying a gruesome death, he wants to prove that even scum villains can live, yet he's constantly monitored by The System and can't act too out of character to avoid derailing the plot.
Characters
[
]
Shen Qingqiu
[
]
Originally Shen Yuan, lived in the 21st century and enjoyed reading web novels. After choking on a meatbun as he complained about the harem novel Proud Immortal Demon Way he became reborn as Shen Qingqiu, the scum villain of Proud Immortal Demon Way. As Qingqiu he is the Lord of Qing Jing Peak and Luo Binghe's master. He was in perfect health before being overcome by a high fever. Shen had been training the disciples and was anxious for their success.
Luo Binghe
[
]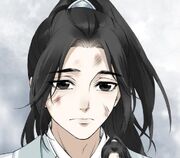 Addressing him as younger brother Luo asks if Shen can hear him. Sharing their location, Luo is concern at Shen falling dizzy and remains exceptionally loyal to him from there and onwards. He wields a sword in combat and was able to acquire the Zheng Yang sword. Largely indifferent to bullying instead Luo focused on improving his cultivation. Optimistic he also did not give up his practice. Having entered the Endless Abyss, Luo returns stronger and is able to unite the demon realm under his reign. The powers at his disposal allow Luo to discern their location and exert control over others by manipulating manipulate their limbs. Dreams are able to be created to detail people and scenes.
Liu Qingge
[
]
Being arrogant and stubborn makes him hard to approach him yet Liu values loyalty other strength in others. A peak lord, Liu's spiritual power is formidable.
Yue Qingyuan
[
]
As the Sect Master of Cang Qiong Mountain and the Lord of Qiong Ding Peak, Yue's reputation is as the most powerful cultivator of his era. He could win fights without his sword being drawn. Rather than being fired upon by ten thousand arrows and dying as he did in the original Proud Immortal Demon Way story, Yue avoids that fate because of Shen's alterations in the Sum Villain's Self Saving System plot.
Sha Hualing
[
]
Ambitious she attempted to claim the spoils of war from the Cang Qiong Mountain.
Liu Mingyan
[
]
Her reputation is that she is just, intelligent and great of character. Liu displays as much in being tolerant and able to grasp the nature of a situation.
Ning Yingying
[
]
A disciple of Shen Qingqiu she would become Luo Binghe's first friend.
Story
[
]
Shen Qingqiu awakens the hear from Luo Binghe that he is in his Qing Jing Peak. Luo details how the Immortal Alliance Conference is approaching. As Luo considers their Cang Qiong Mountain Sect's foundation and fame even if one of the disciples does not attend Shen is realizing who he is being addressed as.[1]
Images
[
]
References
[
]
Wiki Link
[
]