Payback is an ongoing manhwa written by Samk and illustrated by Fujoking. Released in 2021, it has been serialized by Bomtoon. The chapters were serialized every 1st, 11th, and 21st of each month. An English translation has been announced to be published on Lezhin.
Synopsis
[
]
Living the life of a scoundrel, Yoohan, who should be preparing for his college exam, threats and acts deceitful to get money from other people. After losing his family by the hands of a vengeful man, Yoohan starts feeling guilty and decided to work hard to atone for their death. As soon as he found out that his old roommate, Song Myeongshin, was involved in his brother's death, he too sought for revenge. And as if by fate, he meets a man whose first words to him were... "I WILL HELP YOU."
Characters
[
]
Lee Yoohan
[
]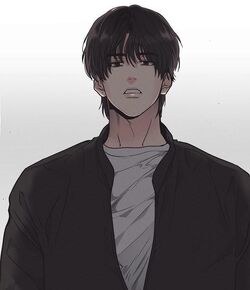 Deciding he did not need Jay, he delivers a package but learns Park's identity from his name tag before yielding the parcel. Unable to join a colleague for a get-together later Yoohan says he already has plans. Thinking about it, Yoohan did work part time in a karaoke bar before, he has always thought that place had a funny name. In the past Yoohan had his hair dyed blond, and had ear piercings. Thinking he only cared about himself, with others Yoohan thought he looked cool as he continued to act as their boss. Asking how he could use a balisong[1] Yoohan feared nothing in this world and felt as if he could do whatever he wanted. When one summer came Yoohan's view of this world changed. With his younger brother having arrived Yoohan asked what he wanted him to do at hearing their mom was sick. Thinking how it was annoying Yoohan questioned how much it was. Intending to meet him later in the afternoon Yoohan was going to collect some money today but could only give half of it. Thinking it was ridiculous Yoohan wondered how a middle schooler could repay that amount of money, and maybe it was just easier for his mother to just ignore him. Resorting to holding a knife near a child and demanding the family's monthly contract of their house Yoohan spent two years in the loan business when he was 19. Working as a debt collector Yoohan noted how most people who could not pay their debts usually had nowhere to go due to poverty. Told he would be punished Yoohan answered if that were true all the bad people in this world would have already died, and he only cared about the money. Thinking his day was ruined because of that Yoohan handed the money to his brother before seeing him stabbed. When Yoohan lived together with Myeongshin he thought he was his lover. Hearing that Myeongshin told the knife wielder the identity of his brother Yoohan re-evaluates his turn over a new leaf philosophy as anger washes over.
Yoon Jay
[
]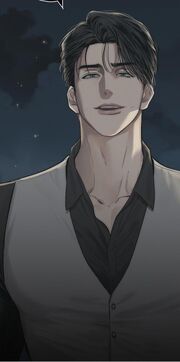 Mentioning revenge and is that not why Yoohan is trying to be a celebrity, Jay said he could be his sponsor. The director of Dream Entertainment, Jay snatches away the package from Park and remarks it is a karaoke bar, it is called Jihwaja. While his voice was a soft, low-pitched tone, a pleasant one, the words that flowed out contradicted this. Letting Yoohan in on a secret, it is that he does not make jokes.
Song Myeongshin
[
]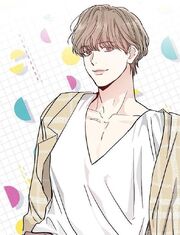 He uses the name Song Yoohan, Myeongshin took Yoohan's money and fled after his younger brother passed away. When he lived with Yoohan he told him the company he was involved in was a scam. After becoming a celebrity his image changed too. In a car park Myeongshin discusses a role and questions is director Yoon looking for someone in Korea. Laughing that he is looking for someone he saw five years ago, Myeongshin raises is it possible that it is love at first sight. Gasping that Hwaja stole Yoon's money Myeongshin questioned whether he planned on dying. Stating that he is not afraid, Myeongshin speaks that he was living with a thug five years ago and he might have been killed if he acted like a coward. Myeongshin mentions how someone crazy came to their house with a knife and asked if he knew where the thug was. Saying he almost fainted Myeongshin thought he would be kidnapped and held hostage. Telling the aggressor that even if he were killed Yoohan would not care, Myeongshin panicked and pointed out Yoohan's brother nearby.
Sung-ki Park
[
]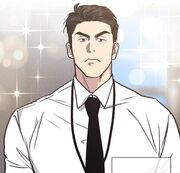 The planning department head, Park starts, and ends his day at Dream Entertainment. As the chief, Park answers he has not had lunch yet and is just picking up a package for director Yoon. Wondering how important it is that Jay had to wait around for it since this morning, when Park sees the flyers he observes the opening was five years ago.
Yoohan's Colleague
[
]
Praising Yoohan for working hard today he adds he saved a great deal of trouble thanks to him and there should be quite a number of supplies here. Revealing that they are having a small get-together later he asks if Yoohan wants to come. They are having karaoke so if Yoohan is up for it he can catch up.
Yoohan's Brother
[
]
When he came to look for his older brother Yoohan he said that mom was sick. Needing money he added they need to pay for her hospital bills. With 4.2 million Won required he asked whether Yoohan could give it to him, he promises he will return it to him. Seeing his brother he asked what took so long before being assaulted and losing his life by a man familiar with Yoohan.
Yoohan's mother
[
]
Not having a husband she took care of her sons Yoohan and his brother but she gave up on Yoohan after he dropped out of school.
Choi
[
]
Addressed as president Choi he is Myeongshin's manager. Seeing Yoohan without his hat on Choi considers him way finer than he thought. Of course it would be unfair to evaluate only with looks, but Choi would be lying if he said looks are unimportant.
Cha Joong-woo
[
]
Story
[
]
The turning of a new leaf has ended. Anger covered the sound of laughter and Lee Yoohan and Yoon Jay will only have one another from now on. Yoohan decided he did not need Yoon Jay. The Dream Entertainment company is considered the pioneer in the film entertainment industry that continues the global Korean wave in Korean dramas, movies and more. Chief Park is picking up a package for director Yoon yet the delivery person, Yoohan, is hesitant to give it to him. With Park delivering it to Jay it is opened to reveal flyers for Janggu[2] classes. Outside Yoohan is praised for working hard today by a colleague yet departs having plans.[3]
Turning over a new leaf is a great idiom, it is better for one to let go of their bad habits and become a better person. But of course, it is even better when there is nothing wrong for you to change. Unfortunately that did not apply to Yoohan and in a past scenario he joined others in viewing a balisong. With those gathered surprised at his hair and asking if he could use it Yoohan acted as their boss. One summer Yoohan's brother arrived and said their mom was sick. 4.2 million Won was needed and working as a debt collector Yoohan gathered half the money to give to him. Finding his brother ,Yoohan witnessed him being stabbed.
Presently, Yoohan asks a man near him who Song Yoohan is. Heading down to basement 2, Yoohan ignores his questions and thinks how Song Myeongshin has changed a lot. Myeongshin took Yoohan's money after his brother passed away five years ago and they lived together for a time. In an underground car park Yoohan hears a conversation Myeongshin is a part of, that the director is looking for Ji Hwaja. As he listens, Yoohan also learns Myeongshin told a person holding a knife about his brother.[4]
Images
[
]
References
[
]
Wiki Link
[
]