My Suha is a manhwa by Chahyun. Working at a company, Suha sees his boss Jiwoon as perfect and the romantic feelings develop once they realize what they have in common.
Synopsis
[
]
A skillful secretary by day and choosy cruiser by night, Suha is a young professional who's in search of some no-strings-attached action. He hasn't had much luck lately, though, since a handsome face doesn't always match what's in a guy's pants. This might be why he finds himself wondering about his dreamboat boss, Director Park Jiwoon. But there's no way he can mix business with pleasure… That is, until Jiwoon and Suha run into each other in the gay bar bathroom.
Characters
[
]
Lee Suha
[
]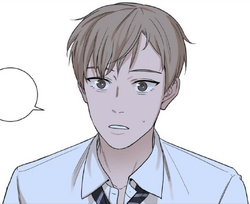 Considering his foremost purpose is to maintain security, Suha takes into account threats to classified information. He helps work to keep his boss, Jiwoon's professional image flawless. Whilst he feels that Jiwoon is already perfect and Suha is nice to his friend, Siwoo, it is not the same approach he affords to strangers. Blocking someone after a hookup that left him bored, to abruptly leaving someone he was making out with, Suha exhibits shallowness for thinking how every one has an unacceptable flaw. He was worried about Jiwoon's reaction to finding him at the bar but is happy to behave as normal. Attentive to details and having a good overview of matters, Suha remembers from a previous dinner that a president enjoys liquor so prepared a gift for Jiwoon to pass onto him. At 32 he replies to his mom who he lives with that everyone he knows have plans to stay single where having the skills to support oneself is enough. His height is around 174cm.
Park Jiwoon
[
]
The director, he allows Suha to leave early after he has engagements planned. Finding Suha in the bathroom, Jiwoon does not comment on his situation with another customer. At work he operates as if nothing happened. Friendly in his dealings with others, Jiwoon requests a president to pass his congratulations to his son regarding a marriage. Jiwoon replies he does not have much interest in marriage for himself yet and feels comfortable on his own. Besides, it allows him to maintain his focus which Jiwoon states as he observes Suha. Not interested in the ritual of dating, Jiwoon considers it a waste of time and energy. Praising Suha as thoughtful, Jiwoon is glad he can rely on him to remember such details. He politely declines president Jung's offer of a drink at a business dinner since he does not partake. Not bothered at having the drink accidentally spilt on him, Jiwoon invites Suha into the dressing room where he is changing. He is kind to Suha and buys him presents. He is either 29 - 30 years old, because in chapter 15, it gets mentioned that he is younger.
Siwoo
[
]
A friend of Suha's who messages him to get home safe. He owns a bar, and Suha asks Siwoo to help Suha find a hook up. They close enough that he accommodates the request to find someone similar to his own physicality for Suha.
Oh Seung-Cheol
[
]
The president of Jaeseung Corporation who has a lunch meeting with Jiwoon scheduled.
Choi
[
]
The president of Seoul trading who is scheduled to meet Jiwoon at 3. He is also trying to match up Park Jiwoon with his daughter
President Lee
[
]
She was pleased to hear the news of a business merger. She is also the grandmother of Do-hyeok and Jiwoon. Lee also seems to hate Jiwoon and always believe he is incompetent.
Suha's Mother
[
]
Living with her son and daughter, she is keen to arrange blind dates for Suha.
Lee Minseo
[
]
Suha's Little sister who despite the large age difference is very close to him. She also spies on Suha for Jiwoon in return he gives her a lot of presents.
Park Do-Hyeok
[
]
The executive director. He is President Lee grandson, Suha's ex-boyfriend of the same age and Jiwoon cousin. He is the reason Suha does not trust in relationship
Kim Young Wu
[
]
A senior of Dohyeok and Suha who enjoys violence. Abusive, he is also involved in drug distribution and intake. He has been intimate with Suha before. King also works as a hotel executive.
Choi Jeong Min
[
]
The department head of Seoul Trading Company and the daughter of president Choi who was at interested in Jiwoon but has since lost interest. She is under the impression that Jiwoon is using his position to force Suha into engage in sexual activities.
Yoon Hui
[
]
Do-hyeok's clumsy and sensitive secretary who is always crying after getting scolded by his superior. Yoon is also a close associate of Suha.
President Jung
[
]
The president who always invite Jiwoon to drink though he always ends up drinking with Suha instead.
Story Introduction
[
]
In a corporate setting, Suha hands Jiwoon documents to authorize for today. He updates him on scheduled meetings and that headquarters in France will contact Jiwoon about product exports, then about the final inspection of the Gangnam store opening.
After work Suha visits his friend Siwoo at a bar before coming across Jiwoon in the restroom. Leaving at once, he later envisions a scenario where Jiwoon comments that if it were someone else who saw Suha at that place then he imagines some quite unpleasant rumors would have spread at work. Further, that Jiwoon would mention that he could not foresee them continuing a comfortable working relationship.
Anticipating how they would interact in person, Suha finds Jiwoon greet him as normal. After updating him that the president of Daehan Trading will arrive, Jiwoon attends meetings and comments on marriage and dating. Driving him, Suha updates Jiwoon that C&H Group have acquired a company where president Jung has been pouring his all into technology development.
At a business dinner, a drink is accidentally poured over Jiwoon and Suha fetches a change of clothes. Receiving a call from his mom, Suha is not interested in a blind date with a lawyer. Jiwoon is changing and did not mean to, but he overheard Suha's conversation, happy that there is nothing either of them can do regarding marrying woman.
My Suha Images
[
]
Wiki Link
[
]