Mad Place is an ongoing manhwa written and illustrated by Junah. It has been published and serialized by Lezhin.
Synopsis
[
]
Suspect Hayden, who holds the only clue in the murder of B Bar, demands that only him be investigated at the house of prosecutor Se-hyuk Koo. And the condition of Hayden's statement at Se-hyuk's house is "To have sex for every truth told." What will the end of this maniacal investigation relationship be…?
Characters
[
]
Ha Ideun
[
]
Within a residence he sits in a formal suit with his hands cuffed behind though not on the chair, Hayden was free to move from his position. When Se-hyuk enters again after they interacted, this time with another man, Hayden smiles at the former who he was just speaking to. Happy to talk to Se-hyuk, he has his hands in-front of him so had evidently some degree of influence over his confined state.
Se-hyuk Gu
[
]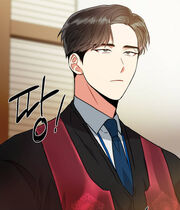 After undressing while interrogating suspect Hayden he then retires to a room for them to sleep together. Dressed formally in court garb Se-hyuk brings a gavel down after a hearing that he was presiding over before tending to a stack of documents nearby. Being driven Se-hyuk checks a tablet device to access information on a man.
Story
[
]
During a police interrogation Se-hyuk is questioning then begins undressing in-front of the handcuffed detainee, Hayden. In an apartment elsewhere they are intimate. At 'The Club Bastard' janitors enter a room to find a man sitting deceased on a couch with blood spilling onto the floor. The Korean flag flies outside a courthouse and within a case is discussed. With a break, an aide checks a group chat via a mobile. By evening a car drives past the courthouse with Se-hyuk picked up where he and his driver discuss CCTV footage. Reaching a residential building Se-hyuk disregards the advice the man stationed outside gives and heads inside. Within there are many footprints on the floor and Hayden sits cuffed to a chair. They begin speaking.[1]
Exiting the building Se-hyuk is shocked as he speaks to his driver. A man in the public eye may be involved with the case at hand. The two men enter to speak to Hayden. With 9am appearing on the clock Hayden is taken to their vehicle.[2]
Images
[
]
References
[
]
Wiki Link
[
]