Legs That Won't Walk is a manhwa written and illustrated by Heuksalgu. It has been published by Lezhin. After Suyeong retires from a boxing injury and rebuffs Ji-Sung's affections, he comes to work for Taesung to pay off his father's debt.
Synopsis
[
]
"Do you want to live at the bottom while working like a dog? Or come under me to pay off your debt?" Suyeong, a former boxer who retired due to a leg injury, was held up by Taesung, a private moneylender, to pay off his father's debt which he didn't even know about. But Taesung seems interested in Suyeong's tenacious figure... Will Taesung's offer be a new bridge for Suyeong? Or another hell?
Characters
[
]
Kwon Suyeong
[
]
Practicing hard at boxing, Suyeong is frustrated at not prevailing. The most uncomfortable thing for him since his injury is not that he cannot walk properly anymore rather it is hearing people apologize. Getting angry or throwing a fit is not thought of when he is kidnapped by Taesung, he tried that during boxing and nothing changed. Suyeong got back up, looked for something to hold onto, yet still could not get away. He thinks of Ji-Sung and how he got him into the sport. Head-butting Taesung as he is checking him, Suyeong frees himself and uses Taesung's face as a punching bag. Coming to work for him to pay off his father's debt, Suyeong delivers violence onto someone flicking him. Essentially physical violence is a way of communicating with others but he is kind and would willingly throw himself into danger to protect someone regardless of his own well-being. He appears to view Ji-Sung's tenderness as coercive.
Park Taeseung
[
]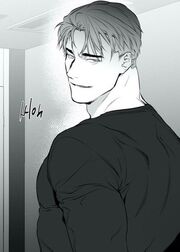 Extremely violent, at identifying Suyeong, he begins punching him then apologizes as he questions whether he just started hitting him without explaining anything. A private money lender, at confirming that Suyeong does not owe him money, rather his father did, Taesung decides what he should do. Not believing that Suyeong does not have a father, he kicks him some more. He asks if Suyeong is dead when he is not answering him. Seeing his injured face, Taesung is sure he has met Suyeong before. Back from a pharmacy, Taesung treats Suyeong's wounds and does not know why but he feels he should keep Suyeong by his side. Calculating, Taesung shows initial interest in Suyeong's persevering nature. Right after he states maybe he should just kill Suyeong since it is not like he needs him. Hiring him, Taesung says he will deduct his monthly wage from the debt and comments that Suyeong is someone bought and paid for. Viewing Suyeong as a fragile toy or a pet, Taesung wants to treat him well and "keep him locked up" supposedly to prevent him getting hurt.
Song Ji-Sung
[
]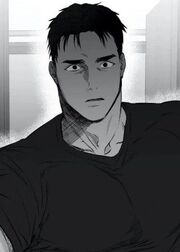 Looking for Suyeong, Ji-Sung kisses him even though Suyeong protests that they are outside. Having been in a relationship in the past Ji-Sung means to keep him safe beside him. Ji-Sung assures him he will be fine once Suyeong goes through surgery and rehab and intends to help Suyeong with the medical fees. Needing Suyeong to ask for his help after he refuses it, Ji-Sung says it does not matter what it takes, he will live for him. Ji-Sung continues to look for Suyeong and sees him exit a car with Taesung. Offering Suyeong a job at the gym counter, Ji-Sung wants them to be together like before.
Sang-Cheol
[
]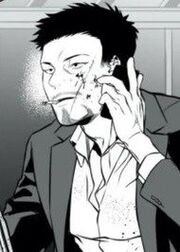 He hits Mr. Kim with a baseball for not returning money he borrowed and demands to knows how much Zhou is paying him. Sang-Cheol heads with Min-Hyuk to meet the new person working for Taesung, Suyeong. Loyal to Taesung while he does look out for him Sang-Cheol is aware there are uncrossable boundaries.
Min-Hyuk
[
]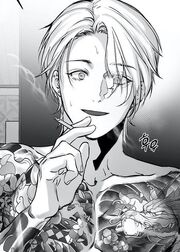 Wondering what the new person is like, he feels Suyeong is nothing like what he expected. An underling of Taesung he develops an interest in Suyeong.
Mr. Kim
[
]
A man who took money and was suspected of reporting activities to Zhou.
Zhou Yu Long
[
]
A president who threatened Mr. Kim.
Story Introduction
[
]
Suyeong perseveres after set-backs in boxing. On one occasion after sustaining an injury that requires a crutch, he is told that he need not come to the gym anymore. Walking, he is apologized to by people who accidentally bump into him. Suyeong sees Ji-Sung practicing and hits a wall which scrapes his knuckles. Ji-Sung finds him and states he, the coach and manager have been looking for him.
With Suyeong refusing his help and hiding from him, he is then come across and kidnapped by Taesung. Although he fights back, Taesung is relatively unaffected. Returning, Taesung gives the ultimatum for Suyeong to be his dog, to come and go when he says.
Park is threatening Kim for borrowing money then betraying them by going to Zhou. Taesung suspects they may have a traitor on their side. Ji-Sung and Taesung become aware of one another yet Suyeong is more comfortable being around Taesung.
Legs Which Won't Walk Images
[
]
Wiki Link
[
]