Kiss Me, Liar is a completed novel that has been adapted into a completed manhwa written and illustrated by ZIG ig and published by Shinyoung Media. Within this Omegaverse, Yeon has changed from a Beta to an Omega, where his boss, Keith, seemingly does not feel the same way that he does.
Synopsis
[
]
As a secretary, is there anything more tragic than having a crush on your boss? What's more, this boss is a big Alpha doctrine. What age does he still engage in sexism and refuse male Omega! Just when Yeon Woo thought that his bitter secret love was going to end in vain, he found out that the boss who looked down on him secretly took care of everything for him. After the heat cycle he not only show resistance, but also made his body really hot...
Characters
[
]
Yeon Woo
[
]
Whilst he is known as the competent secretary at work Yeon feels that every day is not easy. He is effective at reporting updates and meeting times to his boss Keith. Following dutifully behind him Yeon asks how his presence can be a disgrace to Keith when that is addressed. He considers Alphas' Keith and Miller to be really handsome. Thinking that Miller is apologizing now for mentioning the topic of Omegas' Yeon knows he did it intentionally. Yeon used to be a Beta but finds himself going into heat at Keith's scent who he first met at a Polo match game.
Keith Night Pittman
[
]
The heir to the Pittman family and the owner of an entertainment company. An Alpha, he needs to find the person who left a mark on him to devour them. Keith is curious at what Yeon's opinion on a matter is. He is friends with Miller and in discussing Omegas' Keith states that he is not interested in men before deeming it strange to see a man's thing. Keith voices that Yeon is one of the most boring people he has ever known. When they first met however Keith intended to be intimate with him where he thought that Yeon was an Asian woman. Working together later Keith likes Yeon because he's fast at his work and is very convenient to have.
Whittag
[
]
The security chief who Keith asks Yeon to find. Whittag is also in mind when Yeon needs someone to cover for him so that he can calm down.
Elizabeth
[
]
She is reported to have signed the contract for Pickman's relationship. Elisha had flung a bouquet of flowers at Yeon and was irate being under the impression that she was submitting to someone.
Miller
[
]
Saying that it has been a long time since he saw Yeon he gives the reminder to call him Grayson. He appears puzzled at Yeon appearing to avoid him. Miller speaks highly of being intimate with an Omega to his friend Keith and appears to be aware that Yeon is one.
Abigail
[
]
Joining Keith she attends a cruise ship party. In her lingerie Abigail thought Yeon was who she asked to bring champagne to her room.
Spencer
[
]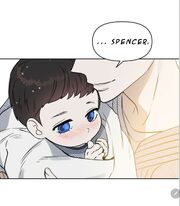 Yeon Woo's and Keith Night Pittman's child.
Story Introduction
[
]
Yeon Woo works as a secretary in the Pickman family corporation which is said to have enough clout to dominate the American financial world. Keith is seen but does not seem to recall the tryst between himself and Yeon so he seeks out Whittag to help in the search for who left a mark on him. With a meeting due Yeon and Keith are joined by Miller who discusses being intimate with an Omega.[1]
Images
[
]
References
[
]
Kiss Me, Liar Wiki
[
]
Official English Translation
[
]
The Kiss Me, Liar novel edition is officially translated by WordExcerpt. Kiss Me, Liar is also available on the Amazon, Google, Apple, Kobo, and B&N ebook platform.