Back to
List of Yaoi Animes
? Kirepapa is a yaoi OVA.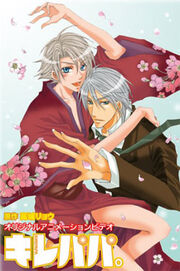 Chisato is a beautiful 35 year old (who looks like 18 really), father of Riju - a cute 15 year old boy. Chisato's hobby is to drive away all of Riju's friends because he thinks they want to rape his precious child. So he shows his good side to these boys while he poisons the cake he brings them with a smile. However, there is one guy, Shunsuke, who doesn't fall for the tricks.
Shunsuke is a writer whose stories are called the Mizuki series. He wrote the series based off himself. Mizuki, the blood thirsty killer, was his alter ego that he used to amuse himself with different ways to kill people who got close to Chisato. He is Riju's classmate and friend.
Kakeru is Riju's boyfriend and an actor who is the role of Mizuki, a tv show that is based off of Shunsuke's books. Although Chisato thinks he is evil and wants to rape his son, and is dead set on breaking them up at first, he is actally a very easygoing person and is very loving towards Riju.
- Summary by [Evil Empire] from mangafox.
Characters
Edit
More Info
Edit
Synonyms: Kire Papa
Japanese: キレパパ。
Aired: 25/01/08 - 28/11/08
Status: Finished Airing
Genres: Comedy, Yaoi
Episodes: 2
Adaption: Kirepapa (Manga)
Where to Watch: http://www.animeseason.com/kirepapa/, http://www.animefuel.com/category/k/kirepapa-ova
Recommendations:
MAY CONTAIN SPOILERS
1 Word to describe this: AWESOMENESS. Although it has some cliches here and that, Kirepapa is something that you should check out if you love fluffy romances. Chisato is a hilarious father and he's quite protective of his son. xD The story starts out when Riju(his son) brings home a couple of friends. Slyly, Chisato poisons the food he brought them. When they all left, Shunsuke comes in. He knows all of Chisato's tricks and is one of Riju's best friends. Secretly, he's been in love with Chisato ever since he was young. (Huge age gap relationship o_o)
Besides the few cliches, the ova and manga is worth checking out. The manga can bought at bookstores with the title, 'Pretty Papa'.
- Written by Anon
Story: 3.5/5
Art: 5/5
Characters: 4/5
Scenes: 5/5 (Not explict in OVA xD)
Humor: 4.5/5
Overall: 4/5
- Rated by Anon