Three very different couples caught up in a storm of pure romance!
Romantica: Misaki is suddenly having some unexpected and odd problems.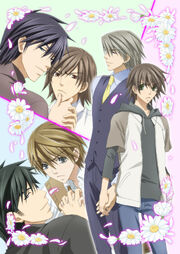 What started as a need for some college entrance exam tutoring has somehow led him to being romanced by a suave older man who also happens to be his big brother's best friend. Confused by all of his brand new emotions, Misaki struggles to deal with his suddenly very odd life. And if that wasn't enough, his suitor, Usami, has plenty of issues of his own. A man-child who decorates his room in giant teddy bears and toys, Usami is a famous novelist who also writes steamy boys' love novels on the side. When Misaki cracks open one of these books and reads sentences like "Misaki licks every inch of Usami's hot body" ...well, let's just say that all hell breaks loose.
Egoist: Just when Kamijou's life is at its lowest, he has a chance meeting with a man who never lets anything hold him back: Nowaki. His name means "typhoon," and he's about to take Kamijou on a whirlwind ride that will turn everything upside-down.
Terrorist: Miyagi always seems to shrug off the cares of the world with a joke and a smile, but even he has problems, although he doesn't let them show. Foremost is Shinobu, a relentless young man who's adamant that they're destined to be together.
- Source(s): RightStuf, ANN, AniDB
More Info
Edit
Synonyms: Junjo Romantica, Junjyou Romantica, Junjō Romantica
Japanese: 純情ロマンチカ
Aired: 10/04/08 - 27/06/08
Status: Finished Airing
Genres: Comedy, Drama, Romance, Shounen-ai
Episodes: 12
Adaption: Junjou Romantica (Manga), Junjou Minimum (Manga)
Sequal: Junjou Romantica 2
Other: Junjou Romantica Special
Spin-Off: Sekaiichi Hatsukoi
Side Story: Junjou Romantica (OVA)
Where to Watch?: http://www.animeseason.com/junjou-romantica/, http://www.animefreak.tv/watch/junjo-romantica-english-dubbed-online-free,
Recommendations: Sekaiichi Hatsukoi,
CONTAINS NO SPOILERS
I don't know how many times I've already rewatched this, but I'd gladly do it again.
This anime leaves you're mouth hanging from the first episode and only gets better. I adore the art and have fallen head-over-heals for the MisakixUsagi pairing <3 Funny, cute, hot and addicting, this will always remain one of my favourite anime - mind about yaoi - and what's more, there's always the second season to look forward to if you just can't get enough ;)
This is a must watch - for all yaoi lovers - and it's also a good first time yaoi.
- Written by WhiteKitten
There are no current ratings for Junjou Romantica.