Jie Yao (Antidote) is a Chinese light novel that has also been adapted into a thirteen episode anime in January 2020. Leaving his old life behind, Cheng tries to make his own way as he comes into contact with gang leader, Jiang.
Cheng Ke quit his original job in pursuit of art, and did not know Jiang Yu. He also became his tenant and started a new life. These two strangers in different work areas began with conflict from each other over mutual misunderstanding. Through hard work and struggles, they have achieved success and move towards a better future.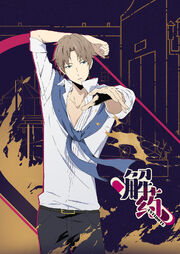 From a rich background, having had everything at 27, he is berated as useless by his father and exiled from the family home. He comes into contact with Jiang yet refuses his help, indeed everyone's help having resolved to start anew by himself. Distant, and certainly having trouble with basic tasks such as making instant noodles, he gradually becomes closer with Jiang. He enjoys making sand art which he lists as his profession, as well as boxing and is a capable fighter.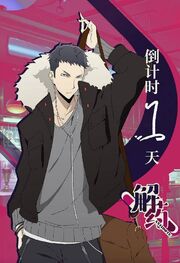 A gang leader who has managed to gain employment at a restaurant where he feels he is just used to take out the trash. He finds Cheng and learns of his background before offering his help. His connections to other gang members brings him into conflict with rival gangs. Defending who he knows, Jiang does attempt to mediate through hostage situations, and whilst he can fight he has sustained injuries. Jiang avoids hospitals since he is scared of them, and has been suffering from insomnia. He is very attentive to details and has good general knowledge.
A driver and bodyguard of sorts to his third bro, Jiang. He obeys his commands and can be tough, if often flummoxed by what is happening. Chen has trouble remembering people's names so resorts to nicknames.
A company president and friend who offers Cheng support. Unlike Cheng's other acquaintances, he does not look down on the people he now associates with.
Cheng is physically disgusted by an open trash bin outside a restaurant. Kicking it the the ground incurs the wrath of Jiang and they engage in a fist fight with them both undaunted. Chen arrives, and Jiang gets his baseball bat to check the bin for a kitten that was in there.
With the reason for the tension known, Jiang hands Cheng his identification card back then offers his business card, his number scrawled on a scrap piece of paper. Jiang tells Cheng to call him if he ever needs any help. After he leaves, Jiang tasks Chen with following Cheng, who confronting him asks for his phone to contact a friend, Xu, to find an apartment to stay for the night.
Locating his own apartment to rent, Cheng finds that the ones he would like to move into is managed by Jiang. There paths cross again when Cheng is speaking to his brother, and sees Jiang with his entourage where he confirms he is a gang leader, and accepts his invitation to eat with him.
Enjoy adding total coverage details on the:
Community content is available under
CC-BY-SA
unless otherwise noted.