In A Heartbreak is a completed manhwa at twenty four chapters. It is written and illustrated by Ku Kim. Released in 2017 it has been published by NHN Entertainment, Kakao, MrBlue, and Naver.
Synopsis
[
]
When Min Gun Lee is rejected after confessing to the upperclassman he likes, he is shocked when his crush's scary twin brother Jo Gan immediately asks him out afterward... and refuses to take no for an answer! With the nickname "Mad Dog" and a reputation for putting a teacher in the hospital, Jo Gan is the very picture of a juvenile delinquent - the exact opposite of his princely, model student brother Jo Han. Will timid Min Gun survive being in a relationship with someone the entire school is terrified of, or will his new boyfriend manage to win his heart with his rough but sincere affection? And how will Jo Han react to the situation?
Characters
[
]
Min Gun Lee
[
]
With his declaration of love not successful Lee thinks it is fine, this result was to be expected, and he anticipated to even be called a pervert. Nevertheless Lee feels this feeling of losing his first love is not going to be over in a day. Asked by Gan to date him Lee raises just in case whether he is trying to threaten him to get his money. He is also concerned at the possibility of rumors being spread, and Lee knows Gan will not believe him but he has always been really weak and is not fit to be an errand boy for him. Lee is too scared and considers how Gan is asking him to go out, and processes his request being denied by Han, to another sudden one, and why it is happening at the same time. Remaining in bed, Lee tells his sister Joo he also has times where he wants to be alone. Angered at his friend Park, he accuses him of betrayal and planning to eat everything Joo gave him for the details on asking someone out. With Gan entering the class Lee's anger is gone as he urges them to speak alone outside. Wondering if Gan is crazy Lee states he clearly rejected him and questions why did he show up at his classroom saying all those weird things. Apprehensive, Lee looks right since, who knows, maybe someone is listening to them talking right now. Lee adds that other than Gan's name he does not know anything about him so questions what kind of joke is he even pulling. Deeming it not even funny, Lee asks if Gan thinks he is not hurt enough already, and continues to say how a certain someone does not care about his feelings. Registering that his first kiss was from Gan he also remembers the class' reaction to the rumor they were going out and thought if this carries on he will be the first person to die from a mental breakdown. Taking action Lee says if Park dare tells Joo he will cut off all ties with him. The reason he did not tell anyone was not because it was a guy, but because it was the mad dog Gan. He likes playing video games, eating oranges, and pizza and as Park tells Gan this, Lee labels him a traitor, and a meanie. Speaking to Gan he asks if it is not troublesome for him to always come down every break in-between lessons. As Gan says when they start dating he will be his, Lee answers no, he will still belong to himself. Fidgeting as he speaks to Han to say this is all a misunderstanding, Lee mentions that he and Gan are definitely not dating and he is not the kind to go for another guy just because he got rejected. Unable to think properly Lee wonders how he is supposed to explain this, he cannot possibly complain about Han's brother. With Han understanding, Lee guesses he will be relying on him regarding Gan. Panicking when he sees that Han has been hit, Lee turns to Park on how he said they would not fight. It is exactly because of Gan's personality as to why he does not want to date him. Suspecting Park has been bribed again when he is advised to date Gan, Lee shares he is really frustrated. Wondering why everyone is acting so weird he states should they not be stepping in to stop anything else from happening. Asking what about him, Lee questions whether Park is not feeling disturbed and why is he not asking him anything. Regarding Han he feels the bruises look serious and no matter how he looks at it Lee feels it is his fault. Due to Park's message Lee heads on a date with Gan and enjoys the online games in an Internet café and other activities such as shooting basketball hoops in an arcade.
Jo Gan Kim
[
]
Calling Lee to the washroom Gan bluntly says for them to start dating. With Lee commenting that he is a guy Gan answers if he thinks he is blind, and had also overseen Lee tell Han his feelings. In the second year and 18, Gan has a reputation amongst students as a mad dog and on the first day of school he fought with one of the teachers who ended up in hospital. Finding Lee in class Gan reveals he is here to continue where they left off yesterday and is there anything wrong with that. Outside he kisses Lee then asks if this concludes it, he has also thought about his feelings too. Gan asks if it is fine if he gives Lee more time to think, to get over his heartbreak and get to know him better. With his arm around Lee he says for him to deal with it. He has taken to holding Lee on his lap which in his view is done to get to know him better. Feeling this is what Lee meant by "taking care" of him Gan questions what is he not satisfied with. With Lee feeling like he is being interrogated Gan replies it is because he has not asked him anything, it is like he does not even want to get to know him. If Lee does not want to ask him so be it but Gan wonders what is wrong with him asking questions. Since Lee did not even tell him his size Gan was forced to ask his friend, and he would message Park for further information. Stating to Han that he and Lee are dating, Gan affirms he is serious but that it is none of his brother's business. Asking him when did he ever say he was only playing, Gan raises how Han rejected Lee yesterday. Turning to Lee he asks whether he has been mesmerized by his charm. While he glares at Han for taking Lee's hand he does nothing to stop him taking Lee away. Standing by to overhear their conversation Gan comments how Han is still meddling with everything. Blocking Lee's path Gan asks where he thinks he is going and how he was really unhappy yesterday. Telling him to forget it Gan says the next time Lee has anything to say he should tell him directly. Having acquired Lee's number Gan calls him to share his.
Jo Han Kim
[
]
Appreciating that Lee likes him Han speaks how he never imagined him being his other half. Continuing, Han says for Lee to not be mistaken, he is not being biased to him but suggests they stay as seonhubae[1] for now. At 19 he is in the third year. Wondering where he has seen Yeri before, Han then questions Jumin Han what he is doing coming to the first year's level. Han says sorry to Jumin for his tone when him using money to solve problems is mentioned. Asking Gan why it must be Lee he is asking because he does not know. He suggests if Gan just wants to have some fun, anyone will do. Taking Lee's arm Han says for them to have a talk. Leading him Han apologizes regarding him pulling Lee. Requesting that Lee tell him what happened then seeing his expression Han knows he is worried and assures him he is not angry. Adding that who Lee dates has got nothing to do with him Han adds he does not need to be bothered by himself. Clarifying that the rumors are not true, and whether Lee means he has no intentions of dating, Han feels it is a relief and concludes it means that Gan was the one who forced Lee into this. Picking up on Gan being addressed as a mad dog Han says it is okay and knows he is short-tempered. Returning to the situation Han feels since it is just a misunderstanding he should not worry. Thinking he has a better idea of the situation Han says he will talk to Gan about it when he gets back so Lee should not worry. Assuring him he will do something about it Han states it is time for Lee to return to class. Spoken to by Gan he feels it would be a big problem if he were really serious about being with Lee.
Min Joo
[
]
Asking if Lee heard her calling him for breakfast Joo questions why he cannot get up already when she does call. If he gets up now she will probably still talk to him nicely. Accompanied with physically restraining him Joo states these kinds of rejections are bound to happen once or twice in his life. As his guardian Joo had heard after school that someone asked Lee out and presses him on who it is, and whether she is pretty and what her age is. She had messaged Park on whether his class had finished exams and largely why Lee was acting all weird. Working at a bar, from her colleagues insights Joo realizes Lee might be dating someone. Welcoming him back Joo innocently asks where he has been. Hearing Lee went to the convenience store Joo cannot help but wonder why someone would be at one for ten hours. Joo left her family home before returning where she continued taking hormones to become a woman. She assumes Yeri is the mystery person Lee has fallen in love with.
Dong Su Park
[
]
Lee's friend, and told by Min Joo that she was worried about Lee he sent her a text but accidentally disclosed too much information. Confronted by his favorite buddy Lee he does not really like the idea of getting beaten so suggests he try to calm down so they can talk about this matter. Having messaged Joo that Kee got rejected and was crying in the bathroom, Park added that after school someone else confessed to him. Park speaks how he did not expect Lee to show an even more depressed face compared to when he was rejected but says at least he did not tell Joo the name of the people involved. When Lee demands to know how he can shut that big mouth of his Park answers what if he used his hands, covering his mouth would not have any effect. Besides, he was offered two bottles of soda together with fried chicken to eat. Certainly not intending to eat everything by himself Park announces he still has some conscience left in him. He appeared shocked when Gan asks Lee to go out with him in the middle of class. Noticing other students observe, Park states he thinks Lee got famous. Now since they know who Lee is dating Park asks whether he should help him prepare his will. Guessing Lee did not tell anyone because it was a guy, Park wonders if Lee would be dead if Joo found out about this. Aware of Gan's background, Park advises Lee to think things through. Asked what he would do if this happened to him, since Lee hates the idea of it in the first place Park suggests he stop hesitating and just skilfully reject Gan, but not anger him so Lee can avoid hospital. Park knew this would happen, that Lee would have already called Gan crazy and mentally impaired, so hands him a will. Written by himself it reads that Lee intends to pass down all his DVDs and games to his beloved friend, Park. He professes to be hurt when Lee will not tell him the guy he really likes. Informing Gan of Lee's interests, Park is also sure to add what he likes, namely eating friend chicken. He would go crazy if everything was just only pizza, but if is were ordered, Gan should not add pineapples. With Han and Gan speaking Park asks Lee if there is anything he did not tell him since with the seriousness the situation seems to be getting weirder. Realizing the guy Lee liked was the prince, Han, Park says it does not matter whether he is soft or not, what is meant to be known has already been known. Noticing Lee's subdued expression Park then places that aside and raises how Han already told him he will speak to the mad dog about it. Noting how Han is the older of the two Park helps Lee to feel better since this problem can easily be solved. Since they are family Park states they would not fight out of nowhere. With this supposition challenged Park concludes that family or not, the mad dog is clearly insane. Park had provided Lee's number since he received a free donut voucher. While students regard Lee as Gan's wife Park remarks that since things have turned out this way why does he not date Gan for real. Speaking how Lee's looks are average, and his family background is similar, where his studies are not any good, and his future is pretty ambiguous, Park continues that up until recently there was not anyone interested in him.
Kang Yeri
[
]
Asking another girl if Lee is the one, Yeri states that kind of person does not even concern her, it is just a waste of her time. Yeri takes to dropping items including scissors near Lee.
Jumin Han
[
]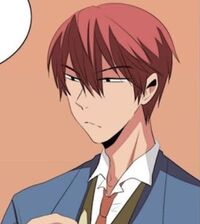 With Han Kim approaching, Jumin Han speaks how it seems like their prince has come to check on the commotion Gan caused. Asking why Han is so angry at him being on the first year's level when he is there too, Jumin questions if Han is going to use money to solve the problem again. He then speaks Han would not do such a thing, why would such a modest student like him do so. Leaving, Jumin says for his highness Han to see the aforementioned commotion. Asking if Han's bruise hurt Jumin wonders if he is worried about his brother or about someone else. Jumin frames it as the all mighty prince wanting to steal his brother's lover and questions if he has not heard a tale like that before. Saying how Han's brother caused such a scene and Han came to school like he is Jumin comments what a joke. Judging the assertion to be true Jumin questions whether Han really was beaten up by his precious little brother, and how he would want to see that.
Story
[
]
Today is Min Gun Lee's first time saying he likes someone. While Jo Han Kim politely declines, Lee is asked by Jo Gan to go out with him.[2] As Lee lies despondently in bed his sister Min Joo has heard about his predicament from classmate Dong Su Park. Finding him in class Lee discovers Park's messages with Joo. In class 1-B Gan enters and asks if there is someone called Min Gun Lee here. Outside Lee speaks how he rejected him, before being kissed by Gan.[3] In class students whispered how Gan had just asked Lee out and how he was going to date that mad dog. Park mentions how Gan fought a teacher yet his dad is the board chairman of the school so the matter was brushed aside like it was nothing. At the time some students could not believe that the mad man and the prince are actually brothers.
In the corridors Kang Yeri has heard of the situation, then walks past Han when she notices him. Han speaks with Jumin Han regarding them being there and of a financial matter. While Lee needs to go to the lavatory he is held on Gan's lap as he is informed by Park what his interests are. Han joins them since there are rumors, from an event that happened this morning, that Gan's lover is Lee. Where Lee denies it Gan tells Han it is true they are dating.[4] As he demands his brother to stick his nose someone else, Park questions Lee on what he means about it being the first day. Lee cannot believe the rumor has been heard by Han. As Han and Gan discuss the matter the former then takes Lee outside to talk privately. Lee clarifies with Han that he is not dating his brother. After Lee returns to class, Gan approaches and Han says it cannot be Lee, to which the reply is Han cannot order him around.
Back in class Park improves Lee's feelings since Han will be sorting this out. Lee and Park then see Han arrive at school whose eye is blackened.[5] They assume it is the case that the mad dog beat him up. As Lee moves to speak with Han he finds the path blocked by Gan. Having gotten his number from Park he calls Lee to give his. Han watches this scenario and says to Jumin it is not like that it was a fight over a lover. Entering the classroom Lee is regarded as the bride of Gan. With Park encouraging them to go out he then uses Lee's phone to asks Gan out for a date.[6]
Images
[
]
References
[
]
Wiki Link
[
]