Hyperventilation is a six chapter Korean 2017 manhwa by Bboong Bbang Kkyu, and animation that includes six short episodes at around three minutes each.
Introduction
[
]
Hyperventilation is a short animation and manhwa series that follows the story of two men, Myongi and Sunho, who are reunited with one another at a high school reunion. Seeing each other after so long brought up old feelings from their high school days.
Characters
[
]
Lee Myongi
[
]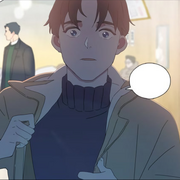 At 27 Myongi only came to the reunion to see Sunho, but he leaves with the excuse of taking a smoke after the prospect of Sunho meeting a woman is raised. During his school days he considered him handsome. Myongi has a lung condition (pneumothorax) hence why he skipped military enrolment during school, and which also causes him bouts of coughing. He hates the negative attention it draws from others.
Han Sunho
[
]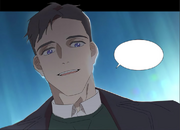 He feels Myongi likes him and only came to the student reunion to see him. During school he was the class president, and one day he took Myongi by the hand to the nurses office during a fit of coughing. He did not pay much attention to the problem with Myongi's lungs since he was not interested in it, but then seemed to develop an interest in him as a person after that.
Story Overview
[
]
Beginning at a school reunion, the interactions between Myongi and Sunho, now 27, alternate between there and 9 years ago when they were 17 at school.
Presently Sunho joins Myongi outside to smoke. There is a flashback and during class, Myongi is beset by coughing before Sunho takes him to the nurse's office.
Back in the present, outside the reunion they kiss and get intimate before heading home together for the night with Sunho having removed his wedding ring at Myongi's request. Flashback to 9 years ago, upon leaving the young Myongi with the school doctor, Sunho wonders about him, then licks away some saliva Myongi left on his hand.
In the current timeline, after placing his wedding ring on Myongi's finger once he fell asleep, in the morning Sunho wakes up to realize that he has left. Contemplating the ring, Myongi recollects recent and past events and rushes back to Sunho but finds he has no idea what to say. They meet again and embrace, Myongi admitting that he left because of the ring. Sunho reveals to him that, in fact, he is not married, and that the ring is just for looks.
Hyperventilation Images
[
]
Link to Wiki
[
]