Here U Are is a completed manhua written and illustrated by Djun. It has been published by Dongman Manhua.
Synopsis
[
]
Registering the newcomers is a task for YuYang, and he ends up helping the unsociable and towering LiHuan, the kind of person that does everything to be disliked. But after better knowing each other, he discovers that the giant isn't that bad of a person at all ...
Characters
[
]
YuYang
[
]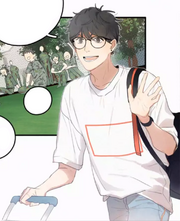 In the second year at college, he majors in design. YuYang is very helpful to new students. His initial reaction regarding him concerned his oppressive height before he showed him to his dorm, and then retrieved his keys. Assuming duties as a military training exercise assistant, YuYang is effective at leading the group, and overall is well liked by people. He does express anger at the way younger people can talk to him as an upperclassman. His birthday is February 14th.
LiHuan
[
]
Attending college, he seldom speaks and maintains an indifferent attitude towards matters and has been noted as being taciturn since he was a child. LiHuan plays the piano, but by himself and has been considering leaving college feeling there is not much there. By his own initiative, LiHuan alters this cycle by asking YuYang if something is wrong after recognizing that something was not right. In another incident he intuits a student being pressured by others to buy them food and being uncomfortable with it, so LiHuan stated that the supervisor was calling the student to their office to remove him from the predicament and bypassing a potential ordeal. Throughout the story he is Eighteen and his birthday is May 20th. His height is also 196cm
Story Introduction
[
]
Yuyang helps new students to register and is handed some luggage which belongs to LiHuan. He considers this day was one where he bumped into someone that would become very special to him. Considering the moments further, YuYang thinks of all the things they would experience including climbing a mountain.
Presently, LiHuan is in his group at a military training exercise and YuYang comes across him again playing the piano when he is helping students. LiHuan returns to his father and states he will drop out of college. Hearing his background, YuYang is tasked with helping LiHuan fit in.
Here U Are Images
[
]
Link to Wiki
[
]