Given is a slice of life and a drama-romance manga written by Kizu Natsuki. It is published by Shinshokan in Japanese and SuBLime in English which is imprinted in Dear+ Comics. It has been adapted into audio drama CDs and an eleven episode anime. The Given movie has been announced and is scheduled for release August 22, 2020.
Synopsis
[
]
Highschooler Ritsuka comes across Mafuyu who is fixing his guitar and after hearing him sing, has him join his band with Akihiko and Haruki. They prepare for a live performance while issues from the past and the present arise to create tension between the members of the band.
Characters
[
]
Mafuyu Sato
[
]
After his childhood friend Yuki Yoshida helped bring Mafuyu's father to justice after he had been hitting him Mafuyu came to be in a relationship with Yuki until he passed away. Generally quiet Mafuyu keeps to himself and naps in his own secluded place on a school stairway where he is troubled by what happened. He becomes attached to Ritsuka after he fixes the strings on his guitar and he repeatedly asks him to teach him how to play it. At odds with his general nature ,Mafuyu has no problem with singing in front of other people and is expressive in what he sings as well. It was this that resonated with Ritsuka which resulted in Mafuyu not just coming to see but invited to join Ritsuka's band. Although coming across to others of being unfamiliar with areas Mafuyu shows himself to be a capable learner. He works part-time at a concert venue as he remains committed to the band. Mafuyu also enjoys visiting the seafront.
Ritsuka Uenoyama
[
]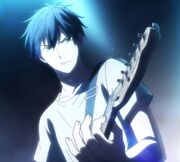 Having been playing the guitar since the sixth grade after he received one from his father Ritsuka developed and sustained his interest in music. Ritsuka plays basketball with his school friends Shogo Itaya and Ryou Ueki however he is also fond of napping in and out of class. Stern, and at first reluctant to teach Mafuyu guitar since he has not taught him before Ritsuka nevertheless brings Mafuyu to his band and tells them he could not leave an abandoned puppy behind. In addition, he takes up part-time jobs such as working in a supermarket to support the band in purchasing required materials. He is unsure and at times incapable of navigating his feelings for Mafuyu especially when others hint at the topic. It is when he is himself that Ritsuka is fine in being there for Mafuyu and kisses him after their first successful live performance together.
Akihiko Kaji
[
]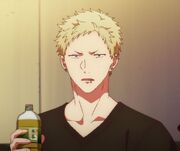 A college student and bassist in Ritsuka's band Akihiko is also in a relationship with Ritsuka's sister, Yayoi Uenoyama. This is as well as in an on and off relationship with Ugetsu Murata. Akihiko is acutely aware of the situation between Mafuyu and Ritsuka and either gags Haruki or chooses his words carefully to avoid tactless scenarios. After identifying issues in the band arising from the unspoken scenario he could see Akihiko coaxes the matter out before his concern that the band could break comes to pass. He acts casual when Mafuyu mentions his background in passing. Whilst he is described by Ritsuka as scary looking but nice Akihiko lives up to this reputation and is gifted at making others feel at ease.
Haruki Nakayama
[
]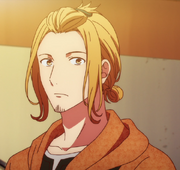 The oldest member of the band Haruki also attends the same college as Akihiko. After harboring jealous feelings towards others who are close to Akihiko he could come to date him. Whilst he is not as astute as assessing situations compared to others Haruki is quick to realize a delicate situation. When something needs to be said as when he was to speak with Ritsuka on why Akihiko cancelled the band practice session Haruki directly blurts out the issues. Whilst he can get flustered this is not the case when interacting with Mafuyu. He is friends with Shizusumi Yagi and arranges for them to perform live. Haruki models for a friend where his hair is styled for others to view on social media.
Ugetsu Murata
[
]
A talented musician who often travels abroad from Japan and Akihiko's ex-boyfriend. Ugetsu met Akihiko in high school and began an on and off-again relationship with him. He shares his feelings which can change to being friendly and open to irritability when feeling stressed. After coming to Akihiko's live after initially questioning whether Akihiko felt ready Ugetsu is impressed by what he hears.
Hiiragi Kashima
[
]
Mafuyu's childhood friend who was in a band with Yuki Yoshida and Shizusumi Yagi. Finding Mafuyu years later Hiiragi wonders why he has Yuki's guitar. He was aware of Mafuyu and Yuki's relationship and seeks Mafuyu out again to discuss past events.
Ayano Kasai
[
]
She is in the same class as Ritsuka and often tries to speak with him. Kasai asks pointed questions regarding Ritsuka and Mafuyu's friendship and regards it as a canard of which she discusses it with others. This is done out of curiosity and although there is little sympathy for Mafuyu's side Kasai does feel upset on how she acted around Ritsuka as she has feelings for him.
Yayoi Uenoyama
[
]
Ritsuka's older sister who she grew up with and lives with. She is dating Akihiko and comes to watch the band perform.
Kedama
[
]
A white pom who lives with Mafuyu. Kedama is lively and enjoys being around people.
Content
[
]
Manga
[
]
April 30, 2013: The ongoing manga currently at six volumes is written by Natsuki Kizu and published by Shinshokan.
Drama CDs
[
]
February 25, 2016: The five audio drama episodes are produced by Crown Works by the Dice Entertainment studio.
Anime
[
]
Released from July 11, 2019 to September 19, 2019 the eleven episode anime details the formation of the four piece band as they prepare for a live performance with other characters involved.
Directed by: Hikaru Yamaguchi
Written by: Yuniko Ayana
Musical score by: Michiru
Songs by: Centimillimental
Studio: Lerche
Licensed by: Crunchyroll
Original Network: Fuji TV (Noitamina)
Anime Movie
[
]
Released August 22, 2020 the animated film concerns Akihiko's developing relationship with Haruki.
Directed by: Hikaru Yamaguchi
Produced by: Blue Lynx
Written by: Yuniko Ayana
Music by: Michiru (Score) Centimillimental (Songs)
Studio: Lerche
Images
[
]
Wiki Link
[
]
An overview page for the whole series, read and contribute greater details to the Given Wiki!