Full Volume is an ongoing manhwa written by Albert and illustrated by Eun-ji Yang. Released in 2021, it has been published by Lezhin.
Synopsis
[
]
Dowon has a problem. His neighbor, Beom, seems awfully rude, but he's infuriatingly gorgeous. And the completely ridiculous cherry on top? Beom turns out to be Dowon's all-time favorite camboy, which only adds to the (sexual) frustration. Beom is a metaphorical pain in Dowon's ass, and Dowon would like to return the favor physically, thank you very much. So, Dowon has a problem—in his pants. The question is, how is he going to solve it? You'll find out the answer if you crank the volume up, and watch very, very closely…
Characters
[
]
Dowon Sa
[
]
Wondering what that noise is Dowon confirms the package outside his apartment is a delivery for No. 1001 again. Slightly irate Dowon mutters to himself that it is No. 1001's fault, he deserves it for ordering it to the wrong address every time. Ringing the doorbell multiple times Dowon calls that it is No. 1002 and for him to open up for the parcel. Smiling at Beom that he is from next door Dowon figured that he would not want people seeing the package. Mentioning how they keep leaving his packages and how Beom might want to amend that Dowon is then angered at Beom's rudeness for abruptly cutting off the conversation. Considering how he is always taking his deliveries and this is the thanks he gets, Dowon thinks with that attitude it is no wonder Beom is jerking it by himself, even with a face and a body like that. On his Mac computer Dowon finds the stream is over. After what he witnesses Dowon has the same stunned expression as he stares upwards in bed, in the shower, and in-front of someone giving him his next project. Having spent the whole day thinking about Snowtiger it is driving him crazy to think about that face behind the mask. Wondering how is he so cute, Dowon just wants to eat him right up but then tells himself to calm down and be cool. Beside Beom he stands calm while thinking at length how he never imagined it would be so nerve-wracking to run into someone he was fantasizing about a moment ago. Wondering why Beom reacted the way Dowon gets angrier the more he ponders about it.
Beom
[
]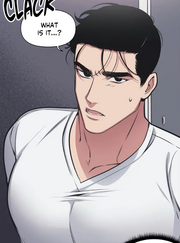 Asking what is it Beom sees his parcel, flinches at it, then thanks Dowon for bringing it to him. When Dowon meant to speak more Beom simply bid him later then slammed the door shut. After seeing Dowon again Beom does not talk but thinks it is not often he sees someone who is taller than him. Seeing the books Dowon has Beom questions why he is throwing them away and later does not get why a masterpiece like it would be discarded anyway. Placing the book on a shelf Beom concludes he should think about travelling later and needs to earn some money first.
Dowon's Editor
[
]
Telling Dowon to cheer up she asks whether his knee is still hurting from that time he fell over while being chased by elephants in India. Stating that Dowon's report on stray cats that he submitted resonated with readers all over the world she adds there is a lot of expectations on this new piece.
Story
[
]
From a door thudding sound Dowon wonders then sees a package addressed to apartment No. 1001 has again been sent to him. Taking it to apartment No. 1002 Dowon sees Beom and hands him the parcel which has a note not to open it without the owner's permission. After Beom leaves Dowon returns to the stream on his Mac and is dumbstruck by what he views. This persists throughout the night and the next day. Dowon returns to his apartment thinking about Snowtiger and he considers who is behind the mask. Finding a stack of booklets Dowon then comes across Beom. As they walk they consider one another but do not talk. Beom notices and reacts to the books Dowon is throwing away. Over email Dowon is informed that they are planning to give out mini globes at the event for "To the End of the World". As Beom considers the book he concludes he would have to save up before travelling. Driving home Dowon resolves to quit watching Beom's livestream sex shows from now on. There is a parcel outside his door and taking it to Beom he decides to see his cute face one last time then he will definitely stop for good.[1]
Images
[
]
References
[
]
Wiki Link
[
]