Ennead is an ongoing manhwa written and illustrated by Mojito. It has been published by Naver Webtoon, in addition to being released in English by Tappytoon. It draws heavily upon classic Egyptian mythology and centers on the conflict between Horus and Seth.
Synopsis
[
]
The once peaceful land of Egypt has been stained with blood under the tyrannical rule of Seth, the god of war. Horus, son of the god Isis but not yet one himself, rises to challenge the throne and put an end to the chaos and destruction. Although the confrontation between Seth and Horus began with hatred, in time it becomes blurred by obsession and desire... The ancient mythology of Egypt comes to life as you've never seen it before in this compelling fantasy BL.
Characters
[
]
Seth\Set
[
]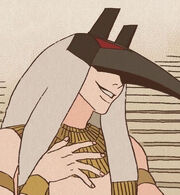 The god of war and deserts, who wields control over sand and protects Egypt from foreign enemies. Centuries ago, he murdered his king and brother, Osiris, before usurping the throne. He also demanded that Isis go to bed with him. Violent and destructive, Seth has ruled Egypt for hundreds of years unchallenged until his encounter with Horus, the son of Osiris and his nephew. Faced with the prospect of losing his throne, Seth and Horus battle each other for the right to rule Egypt. During his unopposed reign Seth considered how the other gods ran away from him and found it boring. He gathered the poor humans and held a festival for them when they were abandoned by the Ennead. Summoning a tornado of sand to deal with Isis, who had a knife at his neck, Seth did not think he could die from the weapon anyway. Seth really likes that Isis is not intimidated even though she has gone through hell, and it is why, for the most part, he was going to play along with her petty games. Enjoying his own sense of humor, Seth commented that seeing all the gods before him made him so happy, here he was thinking they all went on a family vacation to Duat, the realm of the dead. Cracking the ground under his feet, Seth calmly asks whose son Horus is claiming to be, as from what he understands Osiris never had a single child until the day he died and Seth questions whether Horus finds it strange that he was supposed to be the son of a god who died hundreds of years before he was born. Sentenced and called cowardly, Seth speaks of how Osiris took the throne from the sun god by force and then raises the question of how what he did was any different. On this, Seth says the most legitimate king is the sun god. Agreeing that Isis has a point, Seth continues that the greatest gods are those with power and intellect and so the most powerful god here is himself. On trial by the Ennead, three trial events between Seth and Horus are held for the right to rule Egypt. With dark secrets about Seth surfacing, his beaming confidence wavers. Seth is 175cm tall and he weighs 62kg.
Horus
[
]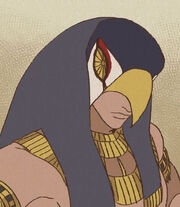 The son of Osiris and Isis, who was conceived after his father was murdered. Horus was raised in secret by his mother to protect him until he was old enough to avenge his father and battle Seth to become the future ruler and sun god of Egypt. Horus has yet to become a full god, but has the blessings and abilities of the Sky god, Nut, and so can control the wind. Facing Seth and speaking that he does not fight woman when challengers are sent before him, Horus disarmed Anubis to draw Seth's attention further. Rather than a pigeon Horus replied to Seth that he was a falcon. With Seth on trial in court Horus is there to reclaim the sovereignty of his father. Publicly describing Seth as the evil god, Horus details his crimes and speaks how he overflows with immoral Ka (life force) and Ba (character and components of the soul). He is close with his mother and takes into account what she says as they carry out their plans.
Osiris
[
]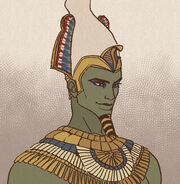 Married to Isis and the father of Horus, he is strong enough to overpower not just the sun god Ra but also Seth. Using his power to control life Osirus gave humans longevity and prosperity. Formerly the god of life and the previous ruler of Egypt, Osiris was admired and well-respected by Egyptians. After being murdered by Seth he was resurrected by Isis and wept for the love she had. Although they would reunite again, having already become the god of the underworld, Osiris would be unable to leave the land of the dead for a very long time. In his brief physical arrivals in Egypt he can overpower Seth and produce many spiked branches.
Isis
[
]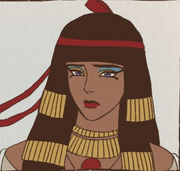 The god of magic, who holds a strong connection to the Nile river. Married to Osiris, as a gift to him she kept the Nile river from drying out for the rest of eternity. Isis had already caught on that Seth had murdered Osiris and so rejected Seth's seduction and then cursed him. She brought Osiris back to life and after conceiving she hid herself from Seth, living in a forest of reeds. Giving birth to Horus, she raised him in secret while hiding from Seth. While holding a knife to Seth's neck, Isis informs him to watch his mouth or she could be the one to cut his throat, not her son Horus. Defending Osiris' reputation, she shouts that he is honorable compared to Seth, who rose to authority by betraying his own family. Isis guides Horus through his trials and acts as foster mother to Anubis.
Anubis
[
]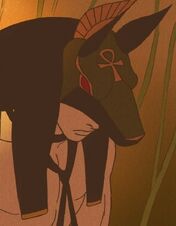 Son of Seth and Nephthys. He begs his mother to leave since the father they used to know no longer exists. Like Horus, he has yet to become a full god, and asks to become one like Seth when he was being raised by him. Anubis is in actuality the son of Osiris. Approaching Nephthys he tells her she has done enough and will help her to leave. With his body covered in deep slash wounds from Seth, his physical body was used by Osiris to appear in the world since he did not have one. With Osiris melting away as his time expires, Anubis is left before Isis where he was healing. Thereafter, by resenting the curse manifested by Seth's selfishness that was cast on him, Anubis becomes a god in Osiris' embrace.
Nephthys
[
]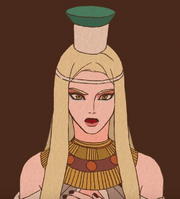 God of harmony and peace, and the wife of Seth. She could open the ears and mouths of humans, silencing disorder. Going to Isis in her imprisonment, Nephthys told her the way out, whispering so that Seth would not hear. Imprisoned, Nephthys replies to Anubis that she is not going to leave but if he does as she says he can get to the ocean. Appearing before Horus she has no idea of her imprisonment and goes on to say that the Nephthys in the outside world is fake.
Ra
[
]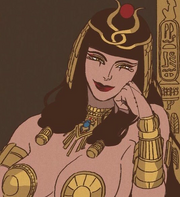 The sun god, as well as the first god and ruler of Egypt. After giving birth to herself and everything else she was wary of the prophecy and acted to circumvent its outcome. Ra was willing to bet against Thoth, and while not gracious in losing, she still complied with the wager and kept her ears closed for four days. The sun god is said to not dare go against Osiris' incredible strength. With Osiris appearing at Seth's trial, Ra smirks that the defendant should uphold his dignity as the supreme ruler of gods until the trial is over. Formerly thinking Osiris was dead, Ra says she could not be happier to see him alive and well. A concern at Osiris describing his murder was that he did not even have a chance to retaliate once before being butchered. Ra also questions whether Osiris had the will to fight back. She finds it strange that the immortal god of life, that even she could not win against, was murdered by Seth overnight.
Nut
[
]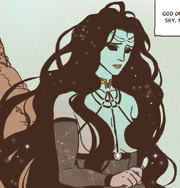 God of the sky who intervenes against Seth when Horus and Isis do. Taking pity on Isis, she sought her out and found her when no one else could on account of her magical based concealment. Nut appears physically before Isis during Horus' first trial.
Sekhmet
[
]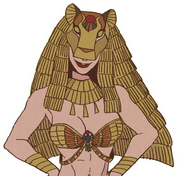 The god of destruction, who convinced Seth to kill Osiris and usurp the throne. She also advised Seth to throw Osiris' body into the Nile river, making it so that Isis finds out instantly. There is nothing she cannot destroy, whether it be a weapon or a mind.
Maat
[
]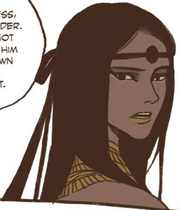 God of truth and justice. She arrives with Thoth to confront Seth and then proclaim that he seized the throne by murdering his own brother, therefore the power Seth has wielded over the past centuries is unjust. Maat adds that, consequently, stability within the Ennead has collapsed and the natural order of death has been disturbed. She unfurls a very long scroll that has recorded all the evildoings Seth has committed thus far and then Maat means for him to stand before the court of the Ennead. There she agrees with Isis that Osiris is a witness and not an offender so should not be interrogated for Ra's own personal amusement.
Thoth
[
]
God of knowledge and wisdom, who suggested and won a bet against the Sun God. Approached by Nut, he informed her that Horus was incomplete and needed someone to strengthen him. With the other gods persecuting Isis instead of Seth, who was causing he destruction in his search for her, Thoth advised Nut to go to the sun god. He arrives with Maat as she orders Seth to attend court.
Khnum
[
]
The god of the Nile river who Isis tells Seth to summon for proof that she resurrected Osiris.
Hathor
[
]
God of love and beauty, she greet Horus and asks if he is the soon-to-be supreme ruler. Having no doubt he would win, Hathor is concerned at seeing that Horus is wounded but relieved he will be okay. Hathor is playing a large harp when she sees Horus again and asks if he would like to listen.
Story
[
]
The sun god rose from a hill on the river of chaos and gave birth to herself. After giving birth to Tefnut, god of moisture, and Shu, god of air, the sun god also gave birth to Bastet, god of abundance and fertility, Hathor, god of love and beauty, Maat, god of truth and justice, and Sekhmet, god of destruction. Tefnut and Shu fell in love with each other and gave birth to Nut, god of the sky, and Geb, god of the earth. Nut and Geb fell in love with one another and wanted to have children. After hearing the prophecy that said Nut and Geb's children would rule Egypt, the sun god became jealous of them and cursed Nut so she would be unable to bear children. Nut was distraught and asked Thoth, god of knowledge and wisdom, for help. Feeling sorry for them Thoth made a bet with the sun god over a game of Senet.[1] When Thoth won the sun god had to cover her eyes for four days.
Nut and Geb were able to give birth to Osiris, god of life, Isis, god of magic, Nephthys, god of harmony and peace, and Seth, god of war and the desert. The Egyptians called these four deities, that were born from the sky and earth, who along with the deities that form the world, Nut and Geb, and the deities that divide the sky and earth, Shu and Tefnut, as well as the sun god, god of all creation and the root of all things, the "Ennead." The sun god did not go against Osiris so the right of sovereignty over Egypt was soon passed onto him.
Egyptians thought that life would always be peaceful, until one day the god of destruction whispered jealousy into Seth's ear. Seth murdered Osiris and attempted to take Isis into his bed. Isis cursed Seth and was imprisoned in a labyrinth as punishment. Nephthys went to Isis and helped her escape. Gathering Osiris' remains, Isis resurrected him with the power of water form the Nile river. Isis had overcome hundreds of years of hardship and in their passion, Isis and Osiris made love with one another. Isis gave birth to Horus, was kept hidden from Seth, who ruled Egypt with blood so that nobody would defy him. The other gods were powerless to act so fell silent. Seth observes as much and orders the gathering of humans.[2]
Hundreds of years later in Heliopolis, Anubis means to help the imprisoned Nephthys escape. Nephthys encourages Anubis to get out the desert so Geb and Nut can look after him. This is all because of Sekhmet's curse where the land upon which the Nile river used to flow became desolate. The resentment towards the gods grew by the day, where under Seth war and pillaging became widespread and murder became a game for those with power. Caravans that used to bring trade to Egypt now worked in Seth's shadow and sold woman and children. The innocent humans the caravans offered up to Seth were brutally slaughtered as a source of amusement.
Horus and Isis fail to assassinate Seth.[3] Anubis is sent to attack Horus while Isis speaks with Seth, who learns that following Sekhmet's advice to throw Osiris' body into the river was what allowed Isis to find him and make a son. As Seth strangles Isis, he is stabbed through the back by Horus and he sees Anubis standing, having dropped his spear.[4] Horus cuts into Seth, who dissipates into sand. He manages to avoid a huge hand formed out of sand that reaches for him. Seth states that the sword cannot kill him but observes that Horus can control the wind. Wondering if Horus is the chosen one, Seth registers that it was the god of the sky, Nut, all along. Seeing her visage above him and men made out of sand armed with spears directly behind himself, Seth wonders if his mother and father are finally taking a stand. Maat and Thoth are present and the former announces how Seth's rule has been unjust and orders him to stand trial.[5]
It is recalled how Isis was lonely and suffered indignities while hiding from Seth who was raiding temples to find her. The gods who lost their temples became angry with Isis, not Seth. They concluded that Seth's tyranny will end only when Isis was found. Nut witnessed all of the tragedies and was utterly devastated. She woke up her husband, Geb and the two gods of the sky and earth searched for Isis themselves. They found her in the lowest, most wretched of places. Isis was mutilated to the point where she appeared to no longer have a single trace of divine stature and Horus appeared underdeveloped. Nut took them in her embrace and went to Thoth in search of wisdom. Thoth advised Nut to seek out the sun god.
As a child, Anubis heard from Seth that one must not turn a blind eye to the manslaughter that happens within war. Only the water flowing through the river of chaos has the right the deliver "death," although Anubis heard if he escaped the current and rowed towards greed in the end, the curse of those that had died innocent deaths would gather. It would become his sword, destined to bestow death upon others. Seth explained that was why his own sword is the strongest and sharpest of them all but also why it was the heaviest. For all their closeness then, Anubis lies injured at the feet of Seth.[6]
Seth is before who he calls the daughters of the sun god, who was present there as well. As he laughs to himself, Maat calls for silence and states the court of the Ennead is in session. Horus presses his claim to the throne but Seth casts doubt on his lineage and mentions that rather than being the son of Osiris, Isis sold her body and got pregnant with Horus that way. When Seth accuses Isis and Khnum of teaming up, Osiris appears before them.[7] His power overcomes Seth's, and Ra and the other gods are pleased Osiris is here. He was in Duat and Osiris asks judge Maat if he can testify on the events that have taken place.[8] The scale balances each have a feather and Osiris' heart which confirms he is telling the truth that Horus is his son. Obliging to share what Ra wants to know, Osiris details how his body was butchered by Seth. Ra questions how Osiris could even be killed with a khopesh, by Seth, then within a night as well. Maat turns the questioning back to Seth who, with his crimes confirmed shall be stripped of his right to rule. Seth shall also receive punishment equivalent to the distress that Isis has endured. Speaking of Osiris and the sun god, Seth announces that strength makes the ruler so it should be him.[9]
With Seth generating a sandstorm, Isis tearfully appeals to Osiris to save Egypt and Horus, but with this body he does not have much time left. Seth appears in a large sand form and judging them, he sentences all the other gods to death. Horus wonders whether Seth will acknowledge him if he proves stronger.[10]
Images
[
]
References
[
]
Wiki Link
[
]