Dial Again is a manhwa written and illustrated by Bbyong and published by Comico Korea.
Synopsis
[
]
Following a near-death experience, an otherwise ordinary young man named Noah finds out that he has become immortal. Deciding to make good use of his abilities, he becomes a bodyguard, but an unexpected side effect of his powers forces him to quit the job.
It's then that he meets a shady-looking man named Allen Walker, who offers to take care of that particular side effect in return for his resuming bodyguard work...
Characters
[
]
Noah
[
]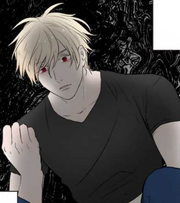 Having died from being hit by a car, to drowning in water after cramp and suffocation death from fire's smoke Allen has concluded he is immortal and feels like the protagonist in a manga. As part of an underground community he worked as a bodyguard and endured bullet and stab wounds even though they still hurt. He quit the job after the men and woman he saved fell in love with him after he woke up. Signing a contract with Allen he replies the jobs were done since the price was good but Noah has not thought far enough to answer what he will do with the money.
Allen Lewton
[
]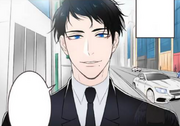 A chief executive, greeting Noah good afternoon Allen hands him his business card before heading to a contract to hire him as a bodyguard. Allen's way around the matter of people falling in love when Noah awakes is to not be there at the time. He then shoots Noah as a test and is there beside his bed when he awakens. Allen says he does not believe what he does not see with his own eyes and then asks Noah if it hurts.
Story Introduction
[
]
On a regular morning Noah is struck by a car and dies. He awakens in hospital and is fine. After using his immortality to serve as a bodyguard he tried a different job for two months before Allen appeared before him in the street. After the contract is signed Allen pulls out a gun and asks Noah to die for him.[1] Waking up Noah and Allen head to a meeting. Since security is arranged Allen says Noah can wait inside the company café. Registering that Allen never said that he loved him Noah is approached and shot.[2]
Images
[
]
References
[
]
Dial Again Wiki
[
]