Define the Relationship is a completed web novel with three novels in addition to three sides novels. Released in 2019 they are written by Flona and have been serialized and published by Ridibooks. A manhwa adaption written by Flona and illustrated by Chada was released in 2021. Ongoing, chapters have been serialized in Bomtoon. An official English release has been announced.
Synopsis
[
]
Born as a non-dominant Alpha to a noble family, Carlyle feels strongly about having an obligatory relationship with an Omega, so he receives counseling. The counselor encourages Carlyle to sleep with another Alpha to overcome these strong feelings. Carlyle, who didn't want to have sex with another Alpha, met Ash while meeting his partner. Ash had kissed Carlyle six years ago on New Year's Eve, but he doesn't remember. After his encounter with Ash, Carlyle begins to develop new feelings. What will become of their relationship?
Characters
[
]
Carlyle Frost
[
]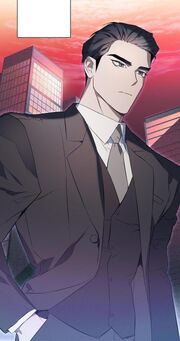 Wandering the streets, Carlyle wonders where did that Omega go. Having told him they would enjoy the new Year's event together, Carlyle feels them at a hotel would be kind of romantic. Judging it would be a waste of time looking for a replacement, Carlyle decides to just head back to the hotel. Unable to make out Ash's eyes, Carlyle contemplates why he cannot pull away as he is kissed. Thinking he knows they will never see each other again, Carlyle answers Ash his name is Rile, a nickname no one knows. Frowning at an Omega's smell, while Carlyle walks off with him it felt like he had left something behind and wanted to look back. He has a dream feeling there is no need to soothe the childish Omega. Waking up next to Robert, he has been meeting this different Omega once a year. Due to his father's desire to control his lineage, Carlyle cannot fall in love to an Omega the family has not decided on. Having been given inhibitors, Carlyle hears there is no abnormality in his body function to explain intercourse problems. With that, Carlyle never thought he would be in this kind of situation and that it is pathetic. On Luthor's advice for psychological issues, Carlyle thinks to sleep with someone other than an Omega. Feeling it is a foolish thing to have a relationship with an Alpha, Carlyle contemplates how it is a risky attempt, and feels it is not him.
Ash
[
]
After bumping into Carlyle he feels it is a relief that he is alright while placing his hands on him. Wishing him happy new year, Ash leans in to kiss Carlyle to coincide with the new year countdown. Taking his hand, Ash asks his name. Brought to meet Carlyle he recommends they head to dinner. Ordering some apple wine, Ash makes small talk. Having heard Carlyle has had some problems, detailing this is the first time doing something like this, Carlyle is not sure he will be of help. Feeling they did not have such a good first impression, Ash says they should set boundaries. With the kiss mentioned, Ash felt Carlyle did not want to see him again. Not wanting an apology, Ash says now it is Carlyle's turn to tell him what he does not like. On Carlyle not wanting unnecessary feelings in their relationship, Ash answers he does not need to worry about that because he will not fall for someone like him. Following up that he is sorry, Ash states what he just said was rude.
The Omega
[
]
This young man found Carlyle who was facing Ash and asked if he was going. Taking ahold of Carlyle's arm he escorted him to a hotel.
Robert
[
]
Seeing Carlyle was awake, and told to sleep some more, Robert speaks how Carlyle has not slept in a while. Sharing that he has something to say, after a pause, Robert raises whether Carlyle is able to climax. With it the case he is unable to, Robert appears concerned and states he will call Mr. Millan. Mentioning he will report what happened, Robert adds it was one of the conditions of the contract.
Kyle
[
]
Carlyle's Younger Brother who is a dominant Alpha. He was said by Carlyle to be suffering from the side effects of the inhibitors.
Millan
[
]
Luthor
[
]
Joining Carlyle in an office, Millan says it has been a long time since he has seen him like this. Feeling Carlyle must be having sex problems in his life, Luthor explains it is because there are several factors. As the Frost family doctor, Luthor has been with Carlyle since he was sixteen.
Nicolas
[
]
Brought in by Luthor to meet Carlyle, he greets the latter hello.
Story
[
]
At around 11.50 in Times Square a New Year's Eve even is about to start. Carlyle cannot find the Omega he was looking for. As the countdown begins Carlyle heads back to the hotel alone before bumping into Ash, who he recognizes as an Alpha. Feeling in America kissing with strangers is common, they kiss. After Carlyle gives a nickname of Rile to Ash, the Omega he was looking for locates him. After Carlyle leaves with him, in a separate scenario he awakens from a dream next to Robert. Noted as an Alpha, Carlyle's mother, the daughter of Marquis Frost was half-mixed with noble blood. Carlyle's grandfather is a very strict man when it comes to his lineage. The belief was that aristocratic blood can produce a dominant Alpha which is 1% of the population. Carlyle was essentially experimented on with inhibitors, of which his brother suffered from side effects. Robert raises with Carlyle on whether he can climax.[1]
Images
[
]
References
[
]
Wiki Link
[
]