Cover Up is a completed manhwa at thirty chapters. It is written and illustrated by GyaGa. First released in 2019, it has been published by Lezhin.
Synopsis
[
]
Fresh out of an abusive relationship with a controlling ex, tattoo artist Geumhwa heads to Japan to work for a mysterious customer. When he arrives, he learns that his client, Ryusei Katamoto, is the handsome half-Korean son of a yakuza family. The tattoo work Geumhwa will be doing is a cover-up for a huge burn scar on Ryusei's back. And though Ryusei and Geumhwa are curious about each other, Geumhwa's obsessive ex is far from giving up. Can a new relationship cover up these old scars?
Characters
[
]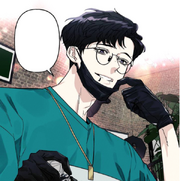 Geumhwa Yeon
[
]
Whilst considerate to clients when inking tattoos, such as telling them they chose a beautiful design, he has less kind thoughts to someone he is sleeping with. Geumhwa also tells him to not touch himself since he reeks of sweat and he has just taken a bath. With his schedule full he wonders if he can do it all yet heads to Japan anyway. Showing unease at meeting a guide rather than Katamoto, then meets him in person and thinks he looks scary. Considering Ryusei's scar to be worse than the photos, he wonders whether it is a burn. Wondering if Ryusei smiled, Geumhwa then thinks he may just be shy. Satisfied that no one can find him here when he receives hostile messages from Cheon, Geumhwa deems Ryusei's home to be much nicer than he imagined and it is like staying for free at a Ryokan. Geumhwa appears scared at seeing an elderly person who is ill, and wonders what that thing was. Particularly liking the ocean, Geumhwa enjoys sightseeing and says he has only ever been to downtown Tokyo. He dwells on being insulted for being a foreigner, and feels he would be scared were it not for work. After having a nightmare involving Cheon, he sees Ryusei has arrived and invites him to breakfast. He became a tattoo artist since his partner was one, and before he started there was nothing he knew how to do. Curious about many things, he behaves differently depending on who he is around and can be both independent as he went to Japan by himself, to also relying on others.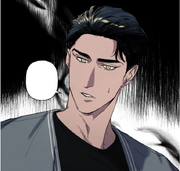 Ryusei Katamoto
[
]
Summoning Geumhwa to Japan, he assures him nobody knows Korean in this place other than him but says Geumhwa cannot tell anyone about what he sees here. Featuring a large scar on his back, Ryusei says to begin the tattooing over it right away. He is considered to be emotionless as this occurred. Perceptive, he asks whether something happened to Geumhwa when he checks his phone, then offers to let him stay at his house. Preparing clothes for him, Ryusei writes notes in Korean to help guide him. He comes to see Geumhwa as one who likes to peek at others, before clarifying that he is joking. Ryusei explains the old man Geumhwa saw is his father who he lives with, then later shares that his mother is an expat from Korea. Seeking out Geumhwa at his hotel after he did not answer his calls, Ryusei felt something had happened. After being distant and wary whilst sightseeing with Geumhwa, he says sorry then answers that he is thirty two. Having lived in Japan continuously, Ryusei has visited Korea. He makes an effort to procure fireworks since Geumhwa said he liked them. His tactfulness is used again when he finds Geumhwa hurt and recalls him discussing his recent break up to correctly guess the situation. His response to was help Geumhwa as he pleaded, and take him to a place where he stayed with him. Tending to him, he asked that Geumhwa call him Seungjae as he treats his injuries.
Dong-Hyuk
[
]
Not minding Geumhwa's choice of words for him, he remains civil and asks what he is preparing so early in the morning for, then questions whether he is going to see Minwook. He is relieved to hear that is not the case.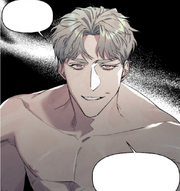 Cheon Minwook
[
]
Messaging Geumhwa, he tells him to pick up his calls, then where he is and whether he wants to die after leaving twenty five missed calls. He is noted by Geumhwa to have always been with him during the hardest times but it still ended on bad terms. There is a pause in the messages he has sent yet in the time delay Cheon has tracked Geumhwa not only to Japan but his hotel room. Immediately grabbing his mouth, Cheon says it has been a while and pushes him over. Saying Geumhwa was acting like he lived at work, Cheon did not know he would leave as soon as work ended. He finds it irritating that something good happened for Geumhwa to run to Japan. Grabbing his hair, Cheon asks who he is going to call and mentions that Geumhwa will be detected as illegal immigration to discourage him from seeking help. After striking him which leaves Geumhwa's lip bleeding, Cheon calmly states that Geumhwa cannot do anything without him. Jealous, he had heard Geumhwa slept with Dong-Hyuk and he threatened him to learn Geumhwa's location. TwT
Story Introduction
[
]
Geumhwa finishes a tattoo session for the day before spending time in a hotel with Dong-Hyuk. He says rather than going to see Minwook, he is going to Japan. Arriving there, a guide awaits to accompany Geumhwa to Mr. Katamoto at his traditional style residence. He sets about tattooing a dragon coiling around a tiger over the large surface area scar on Ryusei's back.
With a week needed for the color, Geumhwa intends to stay in Japan and after seeing missed calls from Cheon, he is offered to stay at Ryusei's house. During the night, Geumhwa is awakened by a creaking sound and sees an elderly person with a drip being transported in a wheelchair. He is noticed by Ryusei who raises the matter in the morning, before they walk through town together.
Progress on the tattoo continues before Geumhwa heads to a hotel intending to view the surrounding area. He has a nightmare with Cheon there, and awakening Geumhwa sees Ryusei has arrived so they have breakfast together. Heading to the seafront, Geumhwa shares details of his past partner before Ryusei takes him to somewhere he wants to go and then brings fireworks like Geumhwa wanted.
After enjoying the sparklers, Geumhwa heads to his hotel and answers the door, assuming that Ryusei has forgotten something. It is Cheon who has followed him to Japan and he assaults Geumhwa in a calm fit of rage. Geumhwa does agree they should go together and uses a bedside lamp to hit Cheon across the head which draws blood.
Cover Up Images
[
]
Wiki Link
[
]