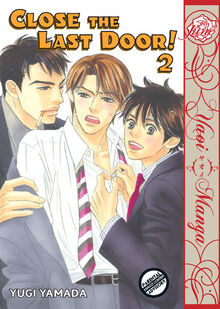 Close the Last Door
(最後のドアを閉めろ!;
Saigo no Door wo Shimero!
) is a two volumes manga series written by Yamada Yugi. It has been licensed and released by the English publisher Juné.
Nagai attends his best friend and secret crush Saitou's wedding. While drowning his sorrows in alcohol he ends up in a hotel room with one of the brides guests, Honda. After finding out that Saitou's wife ran away with her co-worker, the day after the wedding. Nagai is there for his first love and best friend, Saitou. Nagai starts a relationship with Honda, but also watches out for Saitou and how he feels about everything.
Characters
Edit
Nagai Atsushi
The Main protagonist, he has been in love with his best friend, Saitou for a very long time.
He decides to soak his sorrows in alcohol at the bar, after the Wedding. He meets Honda, who he sleeps with and starts a relationship with.
Eventually, Nagai moves in with Honda.
Saitou Toshihisa
Nagai's best friend and love interest. Saitou has a baby face, he is very naive and has a childish air to him. He gets married to a girl, just to break up with her the next day, because she cheated on him with one of her co-workers.
After Nagai and Honda become a couple, it is revealed that Saitou did like Nagai after all.
Honda Kenzou
A co-worker of the bride, Nagai finds him in the bar after the wedding and the two hit it off and end up sleeping together.
Eventually, they become a couple.
Ryouko
Nagai's ex Girlfriend.
There is a 30 minutes original video animation adaption covering the first three chapters of the manga, directed by Tama and released in 2007.