Circle is a manhua written and illustrated by Zi Ying Wan. Released in 2015 by U17 it has also been published by Kuaikan Manhua. Season 1 consists of Chapters 1-102. Season 2 continues up to chapter 108 and is on hiatus.
Synopsis
[
]
The best way for the diverse human beings who make up society to unite is to find themselves a common enemy. School is a mini-version of society, so why shouldn't the same thing happen in a classroom setting?
This particular class has chosen Xiao Shang to be that common enemy. But one of its more popular students soon finds himself becoming intrigued by Shang's unapologetic, straightforward way of life.
Characters
[
]
Aou Li
[
]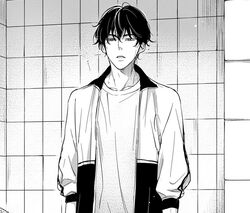 Playing a console game in class, Li unconcernedly sees he has died. Saying it is time to go home Li is mentioned as being obedient going home with Ah Xun everyday. Another student suggests they meet at the basketball court tomorrow, yet more girls ask that he hang out and eat lunch together next break. Instead, Li spends time with his childhood friend Xun and pats his head while saying he will not mention a topic Xun does not like again. In class when Xun has been compromised as the one who planted lingerie magazines in Xiao's desk, Li intercedes to say he borrowed Xun's notebook yesterday. By taking the responsibility Li prevents Xun from being regarded by other class members as someone sly who would plant lingerie magazines in Xiao's desk to embarrass him. Furthermore Li unabashedly requests that the magazines be returned. Leaving people admiring his conduct, Li follows Xun and says how he was looking everywhere for him. When other students are talking how Xun's mother is a mistress Li confronts them to clarify whose mother they are talking about. When a student remarks how Xun's mother is a cheap whore who goes around and seduces married men Li's expression changes for a moment before he drags the boy and punches him in the face. Told there was no need to take it seriously Li asks Xun whether he feels hurt after listening to them. Li has said it before but he will not let Xun get hurt again. Feeling that Xun is avoiding him Li takes his arm and reminds them they are still in the same class and whether he plans to keep this up for the remaining two years. Warned by Xiao that Xun is caught up in some trouble in the toilets Li is stopped short of attacking Jin further by Xun after he was struck from behind.
Ah Xun
[
]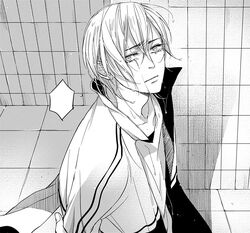 Mentioned as being here so the group should go out and eat, Xun tends to regard the group around Li and enjoys being an observer outside this circle. With a ranked test next week Xun states if Li does not understand something he can come over and find him. Asked how long it has been since he has seen uncle and auntie, Xun replies from now on not to mention them in front of him again, even thinking of their faces makes him sick. With assurances from Li he kisses him. Pushed away Xun comments he has been blocked off again. Xun answers affirmatively that he likes Li then moves to whether hugs are alright. Remembering when he was young, Xun used to feed the neighbor's small dog his leftovers every day after school. Rather than join in the basketball game occurring Xun heads to buy drinks and deems physical sports boring. Living at home watching TV would be so much more relaxing. When Li says never mind when asked if something is wrong it makes him even more curious. Seating himself beside Shang and commenting that he has been bullied everyday Xun questions if he is not even a little angry. Xun suggests if he had made up a little lie or diversion, put the attention on someone else he could have gotten away with this. After being covered by Li to spare him the embarrassment of being seen as the one who planted the magazines at Shang's desk, Xun remembers Shang's words on how a class fellow will leave him. With Li following him Xun feels he really does think of himself as his dog. When Li defends him Xun speaks how if he feels lonely by himself at home then will Li come over and stay with him for the night. All the while Xun thinks about keeping this lion by his side. Despite that it is a genuine concern that unable to be students for their whole lives it is not possible to spend time together everyday. Xun feels Li will eventually leave, find his own lifestyle, group of friends, and have a family.
Teacher
[
]
Informing the class including Li and Xun of upcoming tests he comments that the students discipline is a complete mess. When they bid him goodbye the teacher says he has not even finished talking but reminds them to complete the material.
Ah Shang
[
]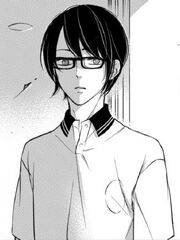 A transfer student who is regarded as acting pathetic and docile at school where he wears glasses, but pretty wild outside of it when surrounded by girls. In class he drops some magazines featuring woman in lingerie. Denying they are his, Shang speaks whether a student accidentally put them there. Spoken to by Xun he suspects it was him who put the dirty magazine in his drawer. Continuing, Shang mentions that Xun pretends not to notice but secretly he finds it enjoyable. Even though he always puts on a fragile look Shang states that Xun is nothing but a lowly insect who is just craving some love. Further he is unable to establish trust with others, always finds others to be full of malice even to the point of hurting and using the ones who love him. Shang warns him of that one day when he will be abandoned. His mom messages how he has been at his new school, and how his sister is coming home next month. Happy, Shang suggests they have a BBQ. In a dress and with hair extensions Shang pole dances at a club. It is the only way where he can truly be himself, to do the things he wants to do. Even though he is still a student Shang assures Lingzi who he works with that there is no risk of another student, or teacher seeing him. Shang rationalizes that if it is a teacher he will get in more trouble than he will. With Fu Xi Mi finding out his confidential information Shang wonders who this guy is and cannot believe he got blackmailed by someone so frivolous.
Lingzi
[
]
Hearing that an old man was being totally gross touching and grabbing, Lingzi speaks how it is not like he did anything else to her and it is normal for a customer to be a little touchy after a drink or two. Concerned with Shang being recognized by someone at school, Lingzi states if he were a chick she would definitely fall for him. Driving, she drops Shang off and is told to hurry home to unwind.
Fu Xi Mi
[
]
Mentioned that he is tall, handsome and a rich mixed-blood prince, Mi bumps into Shang when he is dressed in clothing associated with woman and picks up his school I.D.. Evidently arranging for a student to bring Shang to him he hands the I.D. back. Pulling it back when Shang reaches for it Mi accepts as confirmation that the person last night was him. Reminding Shang how they met in the park comments, Mi adds that he even dropped his bag of makeup. Told to give his possessions back Mi asks what happened to Shang's meek look from earlier. With it taken Mi questions where Shang was heading to in that getup of his, and hearing it is none of his business he replies what if he spread around what he saw. Hearing others coming Mi states that on the back of Shang's I.D. is his phone number, five minutes. He awaits Shang in a piano room and has a dress and wig ready for him to wear. A class representative, in a game of basketball Mi finds himself against another one, Li. Clarifying his name Mi happily smiles for them to have a good match. Mi is unable to stop Li from scoring.
Yu Lili
[
]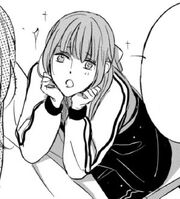 That she wears a bow in her hair along with her demenour causes others to dislike her for supposedly thinking of herself as a princess. Lili joins Li at a sporting to event to ask why he is sitting alone. Deeming Li so cute Lili kindly asks if she can hug him and just carry him home. With the response being no Lili chuckles how she is so hurt. With an incident going on Lili enters the men's bathroom to find Li embracing Xun and asks if she is interrupting anything. Hearing that Li is close to Xun because he needs him Lili speaks that she also really needs Li. On the condition that she will not tell anybody Lili says Li has to tell her all the details such as how far he and Xun have gone. Even though she prepared herself Lili did not think that Li would be that honest and direct in telling her. She comments further that them doing it only once since graduation is how disappointing they are.
Wang Jin
[
]
Confronting Xun in the bathroom with others Jin reminds him he is the one who commented on his mother, then lost two teeth getting beaten by Li. Asking if Xun thinks he is an idiot, Jin mentions if it were not Xun's plan then would his dog Li have come to attack. Having taken the tank off a toilet Jin pours the water over Xun.
Yi
[
]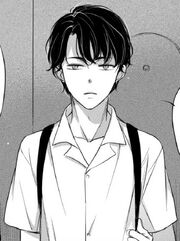 Li's younger brother, he had tutoring at the English teacher's house after school but with it cancelled he heads home, unknowingly interrupting Li and Xun. Greeting Xun as big brother, with it having been a year Yi comments how he shrank a lot. Told he cannot say such impolite things to his elders by Li, and having the pocket money used to buy tonight's ice cream confiscated Yi says sorry he was wrong. Wondering why Xun is suddenly acting like an outsider Yu speaks how they used to play basketball and do homework together all the time. Furthermore his big brother is always talking about how he wants to marry him everyday so Yi has long since thought of bug brother Xun as his big brother's wife. With that Yu states Xun should just stay the night, in any case their parents went on vacation. Having gotten drinks Yi returns to find Xun resting on Li's shoulder as they sleep. Covering them in a blanket Yi then switches on the TV.
Da Yong
[
]
Recognizing Shang and commenting that he transferred to the school here Yong speaks how he almost did not recognize him. On why he is here, this year's track and field competition is being held at the school. Observing Zhe practicing outside Yong comments favorably that he will probably receive a recommendation for college. Seeing Zhe has stopped Yong says he will help Shang by calling out to Zhe and promptly does so.
Ah Zhe
[
]
Running in the third lane on the track and field pitch Zhe is in the top ten in the culture division. Joining Yong and Shang he asks the latter if they can speak. Zhe asks who Mi is to reply no in his stead when he arrives. With him and Shang having been best friends Zhe states he has not changed his phone number so while he and Yong have to go down and continue practicing, Shang should contact him sometime.
Story
[
]
As this morning's class comes to an end it is contemplated how mankind is a huge group of social organisms. They congregate to have fun and chat but there is actually an ulterior motive. To unite everyone together they must find a 'common enemy.' The enemy does not need to be consistent, so long as people can feel they are the same but someone is an outsider. With this kind of thinking one can become a king of a small group. Aou Li is surrounded by people and is observed by Ah Xun.[1]
The material being passed out by the teacher is to be done over the weekend. Next Monday a ranked examination with other commuting classes will be held. Students comment how they just finished monthly exams and how boarding students will win over the ones that commute. Li and Xun head home together, where there are thoughts that high school is not the same as middle school. After saying he will not mention Xun's aunt and uncle again Li is kissed by him.[2] While he is pushed away they then enjoy an embrace.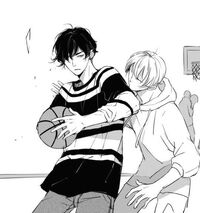 Li plays on the basketball court as Xun watches. Spotting him Li hears Xun is going to buy some drinks at a convenience store nearby. There Xun overhears Ah Shang and Lingzi being called.[3] In class students saw Shang drop some lingerie magazines. It is thought how if Shang's face was not around then everyone will get lonely therefore he should not even dare try to stand up for himself. While Xun joins Shang to provide some supportive words he is suspected of being the one who planted the magazines and has his perceived overall character heavily upbraided.
Xun finds Shang at his desk, he had found his notebook within the magazines. With other students catching on that Xun may have planted them Shang smiles.[4] Li intercedes and mentions how he borrowed Xun's notebook yesterday to implicate himself. There are no negative impressions of Li from others, indeed he is exalted for being into such magazines, girls speak how they see the type of woman he likes. Shang sees his plan has fallen though. Wordlessly, Xun leaves even after Li calls for him. In the corridor Li asks where Xun was during noon break. Xun pushes Li's hand away, they have always been close yet Xun remembers Shang's words that he would be abandoned. In a one person's world, so-called abandonment has never existed, so-called love has never existed.[5]
On 2015/11/25 at 18:12 Shang's mother has messaged him how his sister is coming home next month so they should meet up. At 20:31 Shang replies that they should celebrate with a BBQ. After pole dancing while wearing a dress and hair extensions Shang speaks to Lingzi. Dropped off by her Shang sees his watch which reads around 11:18 and he is bumped into by someone (Fu Xi Mi).[6]
Students discuss how Xun excused himself for an entire week because of sickness. As Shang listens to them mention whether Li will be super lonely he wonders where his school I.D. is. A student calls for Shang to share that someone is waiting for him at the back of the stairs. Fu Xi Mi is waiting and reveals he was the one who bumped into Shang yesterday so knows how he dresses. He concludes the conversation by telling Shang to add him on WeChat within five minutes.[7]
Images
[
]
References
[
]
Wiki Link
[
]