Cherry Blossoms After Winter is an ongoing manhwa written and illustrated by Bam.U and published by Mr.Blue, that is currently at four 'seasons' of content, it was released on Tappytoon in 2017. Haebom was taken in by his deceased mother's best friend after his parents died in an accident at age 6. She already had a son, Taesung, of the same age as Haebom. Living together with him slowly changed their relationship until they found themselves in the same class during their last year in high school.
Synopsis

[

]
From living under the same roof to then being classmates?! Ever since his parents passed away, Haebom has been living in Taesung's house. And now, being a 12th grader, he enters the same class as Taesung, which makes the whole situation way more awkward. Living together 24/7, Taesung, and Haebom's relationship is bound to change.
Characters

[

]
Seo Haebom

[

]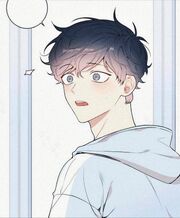 After losing his mother and father, Seo Haebom moved in with Taesung and his mom. He feels guilty feeling that he is taking things away from Taesung. To repay his kindness Haebom attempted to avoid getting in trouble to try and lessen the impact on his new family. Haebom shares with a photograph of his parents that he is beginning a new school year. Unsure of what to say to new students, as usual, this year he is surprised to find himself in the same class as Taesung. Meek, Haebom tries to pass instances of bullying from Junseung and Sangwon as banter between friends. This practice carried over into university where not wanting to make an issue of things resulted in Haebom almost being blackmailed by a picture of him and Taesung kissing.
Jo Taesung

[

]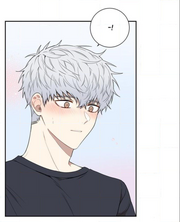 The biological son of Ha Eunseon "Ahjumma" and Jo Seunghu. He had a crush on Haebom since they were young. Initially Taesung tends to keep his thoughts and feelings to himself and believes Haebom's account that those bullying him are in fact his friends. When it becomes clear that is not the case, Taesung steps up his interventions to defend Haebom. He allows a message to remain on the board since it was more reflective of the author than himself and he wanted others to see it. When punched by Junseung, Taesung punched him right back and sundered his friendship with fellow bully Sangwon by mockingly suggesting that they were together. Not concerned about speculation, whichever helped him draw closer to Haebom he was fine with it. Soon Taesung has realized his feelings for Haebom, which were more than just friends. Soon, they began to date, which brings us to the present.
Ha Eunseon (Ahjumma)

[

]
Taesung's mother, and Haebom's mother's best friend who took him in when he was seven after his parents passed away in an accident. She is very kind to Haebom, treating him as her own son and she encourages Taesung to also treat him as part of the family. Noticeably, she doesn't treat her own son with as much care and attention. She is a fashion designer and owns her own company.
Jo Yonghee

[

]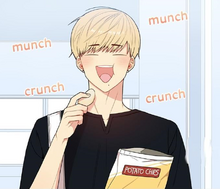 A fellow classmate of Taesung and Haebom in High School who then attends the same University as them. Yonghee is the first to learn that Taesung and Haebom are dating and is very supportive of their relationship. During University Yonghee helped Taesung and Haebom deal with Park Jaegyun. He has a slight gaming addiction and maintains his cheerful disposition.
Baek Inje

[

]
A boy who calls for Taesung when he arrives in class. He thinks nothing of Haebom bringing Junseung snacks. Inje was a close friend of Yonghee and Jia however naturally drifted away from them. Seems to be a little attached to Taesung in an unhealthy way.
Nam Jiah

[

]
A girl who has been in Taesung's classes in the past and likes him as a friend. Nam Jiah comes across as very outgoing and sociable. She hung out with Taesung's group during high school and met Haebom senior year. During university she finds Haebom during one of her classes and approaches him. Jiah is immediately recognized and is greeted happily. Stating a desire that she had spent more time with Haebom during high school. She continues to spend more time with the guys throughout university. Jiah is also the second person Haebom and Taesung agreed to tell about their relationship.
Kim Junseung

[

]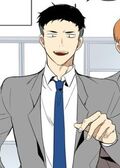 He met Haebom in year eleven and began being a bother to bully him. Junseung would 'borrow' money without any intention to give it back. In class with him again he acts deliberately rude and asks how dare Haebom address him by his name. Junseung switches from being friendly by asking if Haebom has had breakfast before hammering his fist on the table when he does not return the question. Stating he has not eaten, Junseung demands Haebom go and buy breakfast for him. He will resort to physical violence to exert control over others. Seeing Taesung enter the class, he notices how tall he is and makes an attempt to talk to him in order to have him join his "group". Things did not go according to his plans.
Lee Sangwon

[

]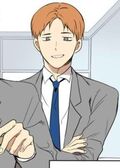 A friend of Junseung's who joins him in being a pest to Haebom. With Taesung's increasing presence, Sangwon breaks away from Junseung and tries to mingle with other students during his remaining time in High School, with limited success.
Haebom's Parents

[

]
His mother had the same dark hair and purple/blue eyes as him. She was the best friend of Ha Eunseon (Ahjumma/Taesung's mother) and their sons became playmates at an early age (6?). Haebom's father had short dark hair and wore glasses at the time they both were photographed with Haebom. Both passed away in a car accident.
Jo Seunghu

[

]
Taesung's biological father. Taesung's parents are divorced. He helped Taesung rent an apartment when he left home for college. He is also the Vice President and successor of the company that hired Haebom and Taesung (unbeknownst to Haebom) as this company would, by rights, be passed down to Taesung.
[1]Yoon Dowan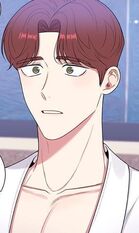 The team leader at Haebom and Taesung's workplace. He appears to have a slight interest in Haebom, and appoints himself to become his mentor. He appears to have a casual relationship with another unmentioned person.
Story Overview
[
]
Haebom is seven years old and after his parents' passing caused by an accident, he moves in to live in Taesung's house. Entering the twelfth grade he and Taesung had naturally drifted apart living in the same home but they soon start to communicate from time to time in school. Noting that everyone in class looks acquainted, Haebom sits alone wondering what should he do. People he does know, Kim Junseung and Lee Sangwon appear to coldly remark they are in the same class again. Haebom is pressured into buying breakfast for them but thinks he wanted to at least make one friend. Exiting the classroom he comes face to face with Taesung.[1]
Cherry Blossoms After Winter Images
[
]
Quotes
[
]
"Since my mom and Ahjumma were friends, Taesung and I were best friends too" - Haebom on his adoptive mother, and her son who he lives with.
"Mom, dad. I'm going to school." - Happily sharing the news to a photograph of his parents.
"Everyone looks acquainted already. What should I do...? Should I go and greet them?" - Haebom who is unsure of what to do on his first day in the twelfth grade.
"Come to think of it, there are some promises that can be broken." - Jo Taesung breaking his promise in the shower.
Wiki Link
[
]
An overview article on the entire series, enjoy reading and contributing total coverage details on the: