Blind Play is an ongoing manhwa written by YD and illustrated by Like. Released in 2021, it is published by Lezhin.
Synopsis
[
]
If life's a game, then Ah-in's always been a loser. Growing up in an orphanage left him poor and emotionally scarred, but now he's determined to bypass the rat race and get rich quick. In his job as a gay masseur, Ah-in has a unique selling point: he pretends to be blind, offering his wealthy, powerful clients total confidentiality. One such client is Seo Ilmo, a mystery novelist with a spotless reputation and a dangerous compulsion. And when Ah-in pays a visit to Mr. Seo's apartment for an appointment, a fatal game of cat and mouse begins. This time, however, Ah-in cannot afford to be the loser…
Characters
[
]
Ah-in
[
]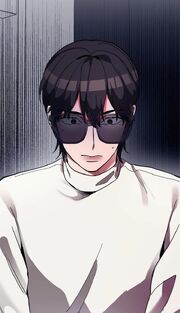 Walking through the city, Ah-in speaks over the phone how he is by himself. Bumped into and told to watch where he is going, Ah-in calmly replies he is incapable of doing so on account of his glasses. As the man walks away Ah-in curses him as brainless. Tending to a client, Ah-in says it is nothing new to be contacted during the day and continues that many people make reservations out of curiosity. Assuring the man that he is blind, Ah-in answers that he was not born blind rather got into an accident when in middle school. Having esotropia, Ah-in's right eye tilts inwards. With the comment that he should keep the tinted glasses on, Ah-in has some choice language then helps himself to the man's Roxas watch that he finds nearby. He hands that to Jeong-Yeon for him to use on his trip. While Ah-in regards Jeong-Yeon as a man the real him cannot have, he does hope he will love him. Housing him in his apartment near the station, Ah-in likes him there but considers the maintenance fees. Stating that he is from room 3407, Ah-in retrieved his belongings that he left earlier before heading out with his white cane. Ah-in states his main clients are rich people who are in the public eye. Remembering not to check his watch in case others are observing and neither to shake hands, Ah-in keeps up his act of being blind as he is led into Seo's residence. There, Ah-in sees a body in the open but wonders repeatedly whether it is a prank. Declining to drink, Ah-in mentions he has somewhere to be after this. Seeing Seo stretch his hand out, but not supposed to be able to, Ah-in changes his movement to reaching out and asking if Seo could take his hand for him to maintain the pretence. He feels Seo is dangerous because he keeps testing him on whether he can see and is more than an overly suspicious client.
Seo Ilmo
[
]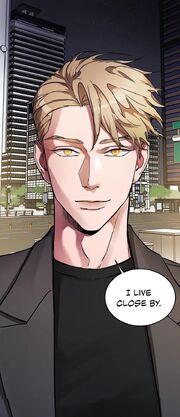 While he is naked, Seo murders someone with a knife. Known as author Nim, he autographs copies of his book "Shadow Song." Handing a book to Han Jijoong he questions whether that is a writer's callus that he sees. Describing it as a distinct feature for those that take notes as a habit, Seo says that Han should be proud of that hand and he is sure Han will become a great author. After booking Ah-in as the next victim, Seo finds him in the street but does not speak. Bringing Ah-in into his apartment, Seo mentions how he has this nice bottle of wine but he is not sure if it is to his tastes as he leads him to a room with someone deceased on the couch. The Chateau Petrus, a premium wine that surpasses the top five chateaus is poured and it is a favorite of his. Seo heard the name "Petrus" apparently originated from Saint Peter, one of Jesus' disciples and guesses the wine is the blood of a sacred liar or something like that. The wine's viscosity and color resembles blood and leading Ah-in he would like to use something other than oil for the massage. Pouring the blood in the wine bottle over his genitalia Seo would like Ah-in to perform oral to start. With Ah-in saying he is unable to drink Seo calmly states then they should stop here and Ah-in is free to leave now if he likes. Seo repeats that unveiled in the circumstances threat when he asks if Ah-in would like to take off his glasses. At the end of their session Seo replies that he is not done yet and places Ah-in closer to the body next to them. Asking if Ah-in is nervous Seo feels it seems like he is since Ah-in is tighter than before. Describing him as like a terrified puppy, Seo then kisses Ah-in.
Jeong-Yeon
[
]
Reading Seo's book, he describes it as an intelligent-type crime conducted by a highly educated person who has disguised themselves as a schizophrenic. It looks like a common motif to him, yet if one looks at the lines and the way scenes are played separately, it is not actually that bad. As Ah-in is pleasing him all the while, Jeong-Yeon continues to detail how even this style of writing is not that refined. Jeong-Yeon takes a moment to express it is as if the scenes are being drawn out in his mind. He is grateful about not having a long commute thanks to Ah-in letting him stay at his. When this semester ends he would like to go on a trip but has not set up the specifics for the plan yet. He is also seeing someone else.
Han Jijoong
[
]
Stating that it is nice to meet Nim and adding he really looks up to him, Han shares that he is currently writing a mystery novel himself. Self-conscious about his hand, Han feels it looks very unpleasant. A person with the writer's callus that Seo described on Han is seen covered in blood next to Seo.
Han Myeong-Jun
[
]
Aware of Ah-in's secret, Han is his friend. His call to Ah-in likely saves his life when he phones to tell him to hurry up before adding that the meat is getting cold. After Ah-in falls unconscious, Han tends to him by preparing food and medicine.
Story
[
]
Seo Ilmo kills a man then checks his phone upon him receiving a message. It is from the Evan Blind Massage, received on Monday, October 19 2020. During the day, Ah-in is on the phone and picked up by a customer. Part of his massaging involves pleasuring the client.[1] At a Seoul W-tower on the first floor on Friday, October 23 2020 at 3pm, there is a book talk and autograph signing for the "Shadow Song" book by Seo Ilmo and Han Jijoong meets him.
Ah-in is with Jeong-Yeon, who discusses wanting to take a trip. Deeming it a world inside of a game, Ah-in feels it is one where paying fees and inductions are never ending. The rules are simple: once you stop lying, everything comes to an end. While Ah-in asks for his belongings from the front desk, he considers how the process one takes to get addicted is rather simple: it starts as a curiosity. Seo remembers being on the bus to the next station of Hankookdae when he meet Jeong-Yeon. Having just committed another murder, Seo messages to book an appointment with Ah-in.[2]
Images
[
]
References
[
]
Wiki Link
[
]