Angelic Whispers Bring Demons to Their Knees was a manga published digitally by Renta! The story explores the relationships between angels and demons at a company, Akuma Shouji, in an afterlife world.
Synopsis
[
]
The five chapters largely focus on the same four characters who appear throughout, though chapters 1-2 focus more on Kei and Chihiro, whilst chapters 3-5 bring Arima into greater focus on a job with Yukichika. Chapter 5 details Kei's developing feelings for Chihiro in the time before their passing.
Characters
[
]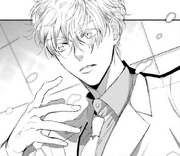 Kei Hoshiuchi 
[
]
He felt dying during sex was very embarrassing and it was an unexpected event for Kei. He had liked Chihiro for years and alone with him he could not stop himself being excited. Kei considered at the time to do nothing with him and continue going out with other women was unbearable. Feeling sorry to his parents for not being a good son, Kei is nevertheless comfortable as an angel in another world with Chihiro and is pleased to tell everyone of their relationship. During his company work, he denies leaking data since there is no merit to doing such a thing. Told Chihiro as a demon is just tempting him, Kei's cheery composure falters to insist it is not true and they are real lovers. He suggests they have sex in front of Arima to prove it. Kei cares about Chihiro and wants to see a side that even he is unaware of. From the other side of the magic mirror Kei watches Chihiro being questioned and he is upset that the questions could hurt Chihiro, and also realizes Chihiro was serious about him. Kei affirms to stay beside Chihiro no matter what others say about them.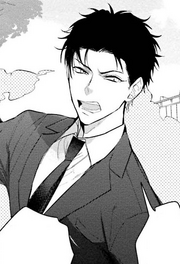 Chihiro Kuroishi 
[
]
Sleeping contently beside Kei in their new world together where he is a demon, his tail wraps around his arm. Generally serious around others, he is described by colleagues as usually cold, but they also mention that Chihiro is cute in bed because Kei told them so. He shows a tender side to Kei as well. Out of concern, he suspects there is something Kei is hiding from him and finds him strange since he did not want to be intimate. Not accepting his excuse that he was tired, Chihiro thinks something must have happened and he does not want to see that lonely smile from Kei. Contemplating that nothing comes from himself and that Kei is the one to initiate intimacy, Chihiro amends that by heading to Kei's work to invite him to lunch. He is angry during the interrogation on himself, and replies that he does not regret dying during sexual intercourse or regret it. Chihiro says if it is not with Kei then he cannot do it and speaks freely that being touched by Kei makes him happy and is sure he loves him.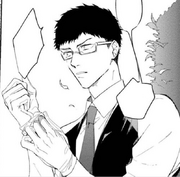 Kenji Arima
[
]
An angel bearing a grudge against demons. From the investigation department, he asks Kei to come to the meeting room where he states the data of human candidates that are angels, which is made by the Saints Training Department, has been corrupted by a devil. He tries to explain to Kei that devils can fake love but learns the accusations against Kei and Chihiro are false.
He is ordered to assist Saeki, yet is extremely reluctant to do so since he is a demon. Arima then realizes that Saeki's behaviour is not at all devil like and learning of the background behind his scarred face, Kenji agrees to help with his lunar cravings.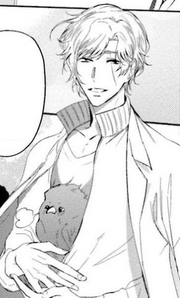 Yukichika Saeki
[
]
An incubus who is described as really good, he manages a botanical garden and looks after a phoenix named Hina. He requests Arima's help with looking after the garden and its animals, and gives Arima his contact details.  
He says sorry for adding a boys name to the Saint Candidate List, but acted to assist someone who needs money to help his sister in hospital. Saeki remarks that even after their lives have finished they are still being divided between angels and devils. Contemplative, he says everyone is like the moon, no matter how many scars they get as long as they live there will come a time when they will shine. 
Azumino
[
]
She notices the gloomy expression on Chihiro's face and asks if he is in trouble, he can tell her. Suggesting he ask Kei what is wrong, Azumino takes ahold of Chihiro and questions when he is going to stop being so passive, it is bad to leave a matter like this. She replies to Arima that she does not walk around in her underwear, it is a swimming suit. Whilst playing badminton she explains when she was alive she used to date Arima's older brother.
Hashiuchi
[
]
A woman who worked with both Kei and Chihiro, she could smell a devil's scent on Kei's jacket and went to Arima about it.
Content
[
]
Chapters 1-2: We Died During Sex, Got a Problem With That?: An Angel and Demon's Fatal Fling (Fukujoushi shimashita ga Nani ka?: Tenshi to Akuma no Korosare Ai, 腹上死しましたが何か?~天使と悪魔の殺され愛~) Chihiro Kuroishi and Kei Hoshiuchi are coworkers who die after a full night in bed together and in another realm they are now a demon and angel. Working at a company, Arima reports data being stolen and confronts Kei and then suspects Chihiro since he is a demon. A week later Chihiro is thinking about how distant Kei has been and tells Azumino about it. Going to meet him, Chihiro is confronted by a member of the investigation department who accuses him of using his body to seduce Kei to gain information. Kei wants to hear more of the tender statement Chihiro made about their relationship.
Chapters 3-4: A Waltz With the Incubus of Your Dreams (Yasashii Inma to Waltz wo, 優しい淫魔とワルツを) Kenji Arima is a hard working angel experiencing love with Yukichika Saeki, a demon afraid of romance. As they work in a botanical garden, Kei appears to comment on Arima's newfound friendship with a demon. He also shares that Chihiro is unable to work during the Estrus period, the time of the full moon that has heightened his sexual urges. As they are both angels, Kei is aware Arima is changing to have feelings for Saeki. Sharing how he became a demon, Arima asks Saeki if there is anything he can do and they both experience love.
Chapter 5: An Angel's Repentance (Tenshi no Zange, 天使の懺悔) Kei's perspective on his and Chihiro's days before their passing. Working on a project, they clashed over different ideas but they enjoyed being around each other. On company business they would spend the night with one another, which leads to the events of their time where they would both be happy together afterwards.
Angelic Whispers Bring Demons to Their Knees Images
[
]
Wiki Link
[
]
An overview article on the entire series, create the Angelic Whispers Bring Demons to Their Knees Wiki for total coverage details!