Angel Buddy is a completed manhwa written by MasterGin, illustrated by Chungnyun, and published by Lezhin. Sooho can see ghosts as well as an angel known as Taker. Taking a visible form in the world, Taker enjoys his time with Sooho.
Synopsis
[
]
To others, Sooho might appear a little strange. But to Sooho, there's much more to "life" than the average person may ever know. And that's because Sooho sees spirits. At first he thought his "abilities" were limited to seeing the average ghost here and there, but one day he witnesses a real life angel floating in midair and staring at him. He then promptly breaks said angel's wing by accident. Sooho's had many a ghost follow him around in his short life, but he's never had to take care of an angel...nor a spirit quite so handsome as Taker.
Characters
[
]
Kim Sooho
[
]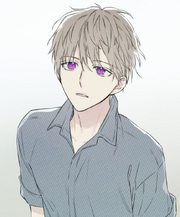 Able to see and interact with ghosts, Sooho tells one to stop following him. Sooho is not here to play with the ghost rather attend class since he is a college student who studies physics. Considering being able to see non-human entities kind of annoying, Sooho is also suspicious that there is no way of knowing what their intentions are. He does not initially see a difference between ghosts or angels. Not much is lost of him, he deems Taker a good talker for rescuing him even though it was later than anticipated, and it was because of Taker's actions that he was originally attacked. Sooho figured Taker must be someone strong for the other angel to react the way he did to him. Sooho can get flustered easily and embarrassed at displays of affection At first he suspected ulterior motives yet Sooho feels Taker is always good to him.
Taker
[
]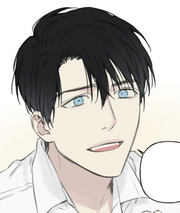 A divine entity different to a ghost, just like grim reapers he collects the souls of the dead yet his book of life and death was destroyed long ago so he does not work anymore. He has a small white avian form which is how his angel wing was accidentally damaged. Taker then assumed his human form to interact with the physical world and be seen by others. Medicine will not work on him yet souls can be used to treat injuries. However he happily questions Sooho whether he looks like the type to take someone's soul just so he can live however does consider if he were to take such a powerful soul. He is further contemplative when Taker wonders if it is his fault for what is happening to Sooho. With Sooho annoyed by some of the ghosts he offers to become his bodyguard. When he has the chance to heal his wing Taker ponders how Sooho is not really a bad guy. After knowing him for a short period, Taker prevents an angel from taking Sooho's life and tells the chief he likes staying with Sooho.
Park Jia
[
]
A girl who known Sooho since they were kids and has classes with him. Finding him with Taker she questions whether he is a friend Sooho met when he went to study abroad.
Chief
[
]
An angel that can communicate with Taker from afar. Providing a new book of life and death she states that since Taker is close to Sooho so harvesting his soul to heal his wing will be easy.
Jia's Grandmother
[
]
She also helped raised Suho and assured him when he was anxious that she too could see ghosts.
Story Introduction
[
]
Kim Sooho is stood in a library aisle and after assuring a woman that nothing is going on, he continues to be touched by Taker who is only visible to him. In class, Sooho wonders why Taker is here and remembers how they first met. As a small white bird Taker had his wing injured and noticed the powerful nature of Sooho's soul. He desires to stay with him and keeps other ghosts from being pests.
Taker receives a new book of life and death from the Chief and learns that Sooho is going to die tonight. An angel arrives to fulfill that yet Sooho can fight him off. He learns a powerful soul is being sought by the heaven's wayward son, Taker. He himself intervenes after being firmly against the plan for Sooho's soul to be acquired and Taker assumes his a human to begin living with Sooho.
They both notice will-o-wisps around Jia and remember her grandmother in the hospital. Visiting her, Sooho tells Taker to get rid of another angel around Jia's grandmother, the angel in turn tells Taker to get this human away from him and stop him from interfering with his job. Although Taker takes Sooho's side he is asked to leave since Sooho feels he is also thinking of a way to persuade him that Jia's grandmother's soul has to be collected when she is succumbing to the effects of elderly age.
With Taker helping him, Sooho is thankful and states the other angels do not seem like the empathize with humans. Taker explains how as a human Suho has the ability to see ghosts, so too is Taker different in that he can form attachments to humans. After attending the cinema and then a bar, Sooho decides to take his shirt off and ask if Taker feels anything for him where before he would joke around often.
World
[
]
Both human and animal ghosts are common and relatively harmless yet cannot physically interact with or be seen by humans in general. Human souls contain powerful energy in them which can heal angels. Spirits such as will-o-wisps are usually attracted to people with weak energy.
Angel Buddy Images
[
]
Wiki Link
[
]