Alpha Mate is a manhwa written by Minji and Illustrated by Laura Chae. It has been published by Lezhin.
Synopsis
[
]
The first love Yeonwoo comes to Sejun, who is holding back Rut while taking an inhibitor, as an 'alpha mate.' Alpha Sejun and Beta Yeonwoo. Can the relationship between the two, where misunderstandings accumulate and only add wounds, can be healed?
Characters
[
]
Sejun Kim
[
]
Shivering in his sleep Sejun awakens and retrieves some medication. Denying he is sick and wanting to be left alone Sejun then feels that he is a beast. Stating to his father that he is not in a rut Sejun is also none too keen to discuss it in confidence with his brother Yeonwoo. Meeting friends because he felt like having a drink Sejun thinks how he hates having to take suppressants just to live like a Beta. With girls joining them Sejun is not in the mood to socialize and heads outside by his lonesome. Regarding an image of Yeonwoo, he wants to date, share his feelings, and love like any other guy. Out of all kinds of relationships Sejun wonders why they have to meet as alpha and alpha mate. He does not know the color of his eyes since the pheromones have not presented themselves yet. With Yeowoo he says to speak if he does not want to be an alpha mate.
Yeonwoo Lee
[
]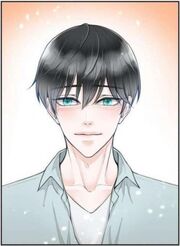 Saying that he was nervous during a photoshoot, Yeonwoo's face brightens into a smile at being told to think about his lover. Sat with his head between his knees outside Sejun's he notes how it is still cold at night. Seeing Sejun arrive with a woman Yeonwoo stands and walks past them both. He is nervous around Sejun, later to his boss Yeonwoo would comment that he has not tried to talk to Sejun yet. Standing outside university classes his nickname of 'O-Be' is on account of him being a beta who looks like an omega.
Seyeon
[
]
Sejun's brother who prepares medical equipment to run some tests. Chiding their father for striking Sejun he himself is slapped across the face. Contacting Sejun he has kept his rut a secret. Speaking as a doctor and not as a brother Seyeon has observed that suppressants do not work on Sejun. Messaging Sejun to tell him that his alpha mate is outside his house, Seyeon says he needs to attend surgery so Sejun should come.
Sejun's Father
[
]
Even though pheromones cannot be detected around Sejun he orders the test be started anyway. Growing impatient, Sejun's father takes the needle and stabs his son in the neck with it to administer its contents. With the test a failure he says to Sejun tomorrow his alpha mate will come. Regarding the name he feels it is better Sejun knows about him and tosses a piece of paper.
Story
[
]
Sejun Kim awakens and acquires some medication. Not answering the door to Seyeon and disregarding the request to bring inspection tools then to come home, with 1:23 on the clock Sejun instead pleasures himself. The clock reads 2:15 and after he showers his father has a needle prepared for him. When this is administered the tests report there was no rut but the possibility is higher than last time. Told that tomorrow his alpha mate will come, elsewhere Yeonwoo Lee is in a photoshoot.[1] After hanging up in a call with Yeonwoo and joining his friends at a restaurant Sejun says he is not interested when girls nearby join them at a friend's suggestion. A security guard checks for Sejun's ID since a person has been reported missing nearby. Alpha mates are being taken for money and Sejun is contacted by Seyeon since his alpha mate has arrived. Outside his apartment Yeonwoo checks his watch where it is 1:55 and then Sejun arrives. Telling the woman he is with to go away Sejun then takes ahold of Yeonwoo's arm as he walks past.[2]
Images
[
]
References
[
]
Wiki Link
[
]